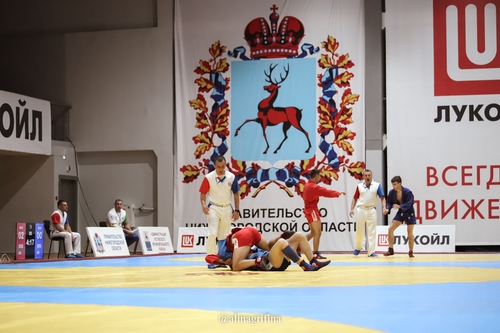 All-Russian Open Sambo Tournament "USSR Merited Coach Mikhail Burdikov Memorial" was held in Kstovo, Nizhny Novgorod region from August 2nd to 5th. The tournament was held for the sixth time. Under the direction of Mikhail Gennadyevich there was organized the World Sambo Academy in Kstovo. As a sambo coach he trained 6 honoured masters of sports, 16 masters of sports of International class and 83 masters of sports of the USSR (Russia), and annually he trains more than 250 athletes of mass classes.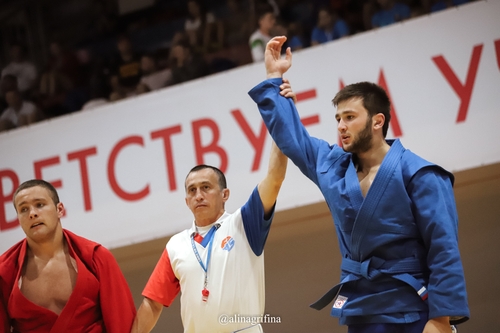 This year "Burdikov Memorial" gathered 156 athletes from Russia, Belarus and Tajikistan. Among them 14 honored masters of sports, 19 masters of sports of international class and 75 masters of sports.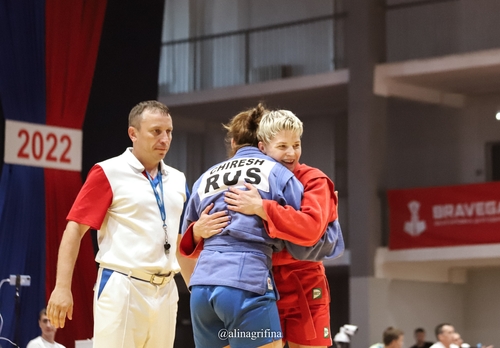 The results of the competition:
Women
50 kg
1 place Lyudmila Ershova (Russia, Moscow).
2nd place Anfisa Kopaeva (Belarus)
3rd place, Yulia Molchanova (Russia, Vyksa)
3rd place, Tatyana Fedorova (Cheboksary, Russia)
54 kg
1st place Vera Lotkova (Russia, Yekaterinburg)
2nd place Margarita Barneva (Russia, Vyksa)
3rd place Marina Zharskaya (Belarus)
Elena Kupavo (Belarus) 3rd place
59 kg
1st place Svetlana Uvarova (Russia, Moscow)
2nd place Tatyana Shuyanova (Russia, Vyksa)
3rd place Evgenia Pavlova (Russia, Moscow)
3rd place Ekaterina Tsybert (Russia, Ekaterinburg)
65 kg
1st place Ekaterina Onoprienko (Perm, Russia)
2nd place Evgenia Chiresh (Russia, Moscow)
3rd place Ri Aiko (Russia, Novosibirsk)
3rd place Olga Mitina (Russia, Moscow)
72 kg
1st place Olesya Posylkina (Russia, Ekaterinburg)
2nd place Zhilinskaya Angela (Belarus)
3rd place Olesia Kravtsova (Russia, Korolev)
3rd place Evgenia Fomicheva (Russia, Perm)
80 kg
1st place Karina Schut (Belarus)
2 place Olga Likhota (Russia, Ekaterinburg)
3rd place Yana Kozyreva (Russia, Smolensk)
3rd place Elena Avdeeva (Russia, Odintsovo)
+80 kg
1st place Maria Kondratyeva (Belarus)
2nd place Valeria Khrushcheva (Belarus)
Men
58 kg
1 place Eduard Muradyan (Russia, Armavir)
2nd place Vadim Dedov (Russia, Moscow)
3rd place Vladislav Burd (Belarus)
3rd place Rudolf Yavrumyan (Armavir, Russia)
64 kg
1st place Akhmed Gamzatov (Russia, Chernoleskoye)
2nd place Alexander Fedorov (Cheboksary, Russia)
3rd place Alexander Chebotar (Russia, Moscow)
3rd place Wrestler Sayan Khertek (Russia, Moscow)
71 kg
1st place Andrey Korneev (Russia, Vyksa)
2nd place Nikita Kletskov (Russia, Moscow)
3rd place Ignaty Kozhemyakin (Russia, Kstovo)
3rd place Alexander Bondarev (Russia, Cheboksary)
79 kg
1st place Alexander Suchkov (Russia, Moscow)
2nd place Alexey Budimirov (Russia, Penza)
3rd place Ivan Lukanin (Russia, Yekaterinburg)
3rd place Efim Lopovok (Russia, Kstovo)
88 kg
1st place Aslan Abazov (Russia, Armavir)
2nd place Viktor Osipenko (Bryansk, Russia)
3rd place Javid Askerov (Russia, Kstovo)
3rd place Alexander Kruglik (Belarus)
98 kg
1st place Vyacheslav Mikhailin (Russia, Moscow)
2nd place Maxim Merzlyakov (Russia, St. Petersburg)
3rd place Sergey Lesiak (Belarus)
Artem Gaibaev (Russia, Penza) 3th place
+98 kg
1st place Artyom Osipenko (Bryansk, Russia)
2 place Dmitry Khokhlov (Belarus)
3rd place Boulud Safarov (Ekaterinburg, Russia)
3rd place Roman Zheltov (Russia, Yekaterinburg)