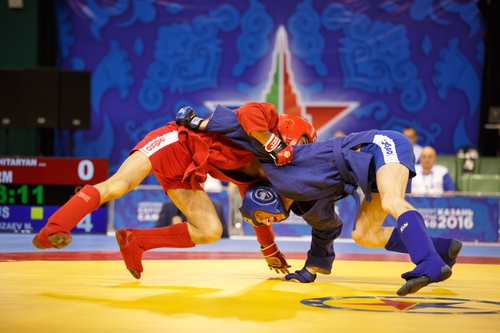 Historical Aspects of SAMBO Development
1920s
* SAMBO begins to form as an independent martial art. Many moves and technical elements of different national martial arts were put into the foundation of SAMBO.
1923
* First competitions were held. Two branches of SAMBO development began to emerge – sport and combat.
1938
* On November 16th 1938, the All-Union Committee of physical culture and sport issued an order "About development of the freestyle wrestling SAMBO" in which it was recognized as "extremely useful for the Soviet youth". This date is considered to be an official birthday of SAMBO as it started to gain a huge popularity in the country.
1939
* First USSR SAMBO Championship was held.
1940s
* At first this martial art was known as "sam", "freestyle wrestling", "samoz", but in 1940s it was officially known as it is now more commonly known – "SAMBO".
1946
* The All-Union SAMBO Section is formed (in 1959 it was reformed into the SAMBO Federation of USSR).
1950s
* SAMBO enters an international arena.
1957
* First official meeting between Soviet sambo athletes with judo representatives from Hungary takes place in Moscow.
* First foreign SAMBO Federation is formed in Bulgaria. After some time, National Sambo Federations in Japan, Mongolia, SFR Yugoslavia, Great Britain, Iran, Spain, USA and in many other countries are formed.
1966
* International Federation of Associated Wrestling Styles (FILA) officially recognizes SAMBO as an international sport. An independent sambo committee is formed in FILA.
1967
* First ever international tournament – "Druzhba Tournament" – takes place in Riga. Teams from Bulgaria, Yugoslavia, Mongolia, Japan and USSR took part in it.
1972
* The first SAMBO Open among men is held in Riga, Latvia. It was held under the banner of FILA.
1973
* First World SAMBO Championship is held in Teheran.
1977
* First SAMBO World Cup is held in Spain.
* First Pan-American SAMBO Championship is held in Puerto-Rico.
1981
* SAMBO is included in the Bolivar Games (South America).
* First World SAMBO Championship among women is held in Madrid.
1982
* Now annual International Tournament "Anatoliy Kharlampiev Memorial" is held in Moscow for the first time.
1984
* SAMBO leaves FILA and establishes the International Sambo Federation (FIAS). Since then every world and European championship is held under the banner of FIAS. Fernando Compte is elected as the first FIAS President, representing Spain. Vasiliy Shestakov is holding that position today.
1991
* The first World SAMBO Championship among Youths is held in USA. It is now an annual event in FIAS Calendar.
* The Association for International Sport for All (TAFISA) is established, officially recognized by the International Olympic Committee and is organizing the "Sport for All" International Games ever 4 years. Sambo competitions are among 500 national sports, games and dances from all over the world.
* The European Sambo Federation is established in Torino, Italy. Padre Mario Loi is elected president, representing Italy. Sergey Eliseev is holding this position today.
2002
* The First Combat SAMBO World Championship is held in Panama.
2009
* General Association of International Sports Federations is rebranded as International Convention "SportAccord" in March. It includes International Sports Federations (Olympic and Non-Olympic) multisport games organizing committees and various sport organizations. Among other events SportAccord is organizing the Martial Arts International Games, in which SAMBO is included as part of 13 other martial arts.
2010
* SAMBO is introduced in first SportAccord International Games in Beijing, China.
2012
* In September Tallin, Estonia, holds the First European Championship among cadets (athletes between 15 and 16 years old).
2013
* SAMBO is included in official programs of the XXVII Summer Universiade in Kazan, Russia and Asian Games.
2014
* SAMBO is included in European Games.
2015
* First European Games are held in Baku, Azerbaijan.
* European SAMBO Cup is included in the ESF Calendar.
2016
* First World SAMBO Championship among students under the banner of FISU is held in Nicosia, Cyprus.
* International youths festival for the prizes of CSTO is established in Moscow, Russia.
2017
* World SAMBO Championship is held in Sochi, Russia. A record number of 490 athletes from 90 countries were competing for the titles of World Champions.
2018
* Orel hosted for the first time the world SAMBO championship among schoolchildren under the auspices of the International school sports Federation (ISF). 63 SAMBO athletes from 21 countries took part in the competition: Armenia, Belarus, Bulgaria, Georgia, Germany, Greece, India, Israel, Kazakhstan, Cyprus, Kyrgyzstan, Latvia, Lithuania, Moldova, Mongolia, the Netherlands, Russia, Romania, Tajikistan, Uzbekistan and France.
* 30 of November during the meeting of the Executive Committee of the International Olympic Committee, which was held in Tokyo (Japan), was a historic moment – SAMBO received official recognition by the IOC and became an Olympic sport.
2019
* II European Games were held in Minsk.
2020
* In 2020 the Professioanl Combat Sambo League was established with the initiative from the All-Russian Sambo Federation. It's main goal is to profesionally develop combat sambo on the international arena and to promote sambo in the world. Combat Sambo League is a joint project of the All-Russian Sambo Federation and Red Square Mediagroup. Arkadiy Rotenberg is the elected president of the League.
* Combat Sambo League, All-Russian Sambo Federation and Red Square Mediagroup with support from Russian Ministry of Sports have prepared a special online-series dedicated to the history of sambo. The series consists of four episodes: the period of establishing, developing and recognition of sambo as a sport ; WW2 period betweeen 1939 and 1945 ; post-war period of recovery and international recognition; period of great victories and sambo's Olympic recognition.