On June 12-18, 2022 in Yekaterinburg sports club "Rodina" the international training action organized by the State Autonomous Institution of the Russian Federation "Sambo and judo school of Olympic Reserve" takes place. Athletes from Sverdlovsk, Moscow and Nizhny Novgorod regions and the national sambo team of the Republic of Belarus (overall 200 people) take part in the action.
On the first day the Minister of physical training and sports of Sverdlovsk region Leonid Aronovich Rapoport welcomed the participants of the training camp: "Sverdlovsk region and Belarus are connected by strong friendly relations. It is pleasant to see such a strong team from Belarus at the international training camp in the Urals. In our area many sports projects are realized, and one of the best is connected with development of sambo and judo. It is sure that the training camps will allow athletes to hone their skills and raise their sports level. Events of such nature as joint training camps are extremely necessary and very useful for athletes in preparing for future competitions. Joint sparring gives guys a tremendous sports experience and good physical preparation!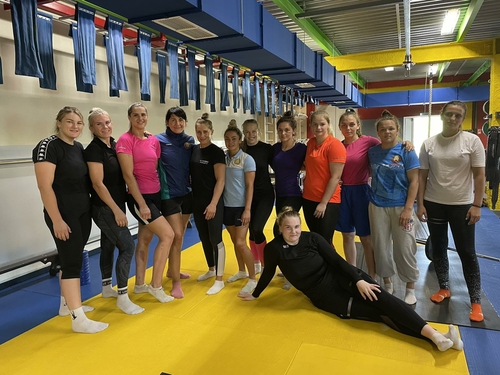 The national team from the Republic of Belarus is represented by 24 athletes, including: Timoshenko Svetlana — 4-time World Sambo Champion; Zharskaya Marina — 4-time European Champion, World Sambo Champion; Koksha Alexander — 4-time European Champion, World Sambo Champion; Kopaeva Anfisa — World Champion; Zhilinskaya Angela — World Champion; Kondratyeva Maria — European Champion.
Sambo World Championships medalists: Skvortsova Anastasia, Bourd Vladislav, Mikhno Evgeny, Gladkikh Pavel, Sayapin Vladislav, Stepankov Alexey, Khokhlov Dmitry, as well as young men and juniors who are winners and medalists of European and World Championships.
First Deputy of the Chairman of Belarusian Sambo Federation, Head coach of National Sambo Team of the Republic of Belarus, 7-times World Champion and 7-times Europe Champion Veronica Kozlovskaya told us about her impressions: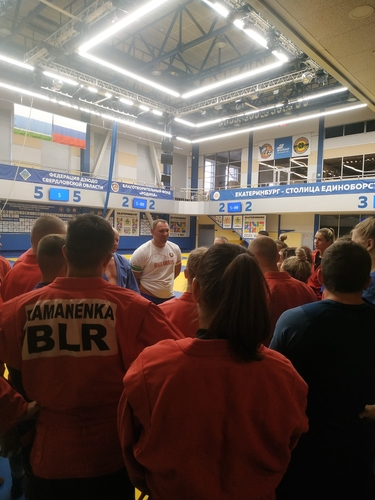 "We are very pleased to meet and welcome the Sverdlovsk region. Your judo and sambo facilities in the Rodina complex are very good, we can work hard! It is very impressive, like in the good old times, to see judo and sambo athletes practicing on the same mats. Very many athletes at a training event, which is rare in this situation, when we can't work on the field. A very high quality amount of work and good sparring turns out, where the young can hold on to famous athletes!"