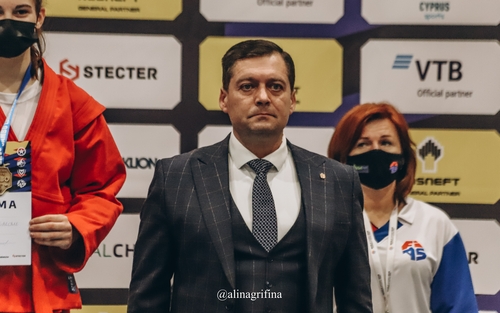 On December 17-20, 2021 European Sambo Championship among cadets was held in Limassol, Republic of Cyprus. We talked to the President of Ukrainian Sambo Federation Vadim Rogach.
— How would you estimate the organization of the World Cadets Championship 2021?
— This is not the first international competition of 2021 in Cyprus, the Cypriots know how to organize competitions, which is nice. Cyprus Sambo Federation works, Marios Andreou (President of Cyprus Sambo Federation) is very good and all his team do a great job. There are always "technical problems" in the organization of any sports event, but Cyprus Sambo Federation copes with them successfully.
— Could you tell us what is the situation with sambo training in Ukraine? How many kids come to sports schools?
— Not so long ago, we had talks with several ministries of Ukraine: the Ministry of Youth and Sports, the Ministry of Education; we were focusing on the fact that this is the generation which can enter the Olympic Games in Los Angeles. We were saying that it is necessary to start training cadet sambo wrestlers now, because seven years will fly by without our noticing it. The representatives of ministries agreed with us, and at the moment a lot of attention is paid to the cadet team of Ukraine. For example Maxim Babich, who on the first day of competitions brought gold to the National Team of Ukraine, became the youngest Ukrainian athlete who since 2022 will be on the staff of the National Team of Ukraine and will receive the rate from the Ministry of Youth and Sports of Ukraine, he is 16 years old. We try to support all the guys, in 2021 they had three big training camps in different countries, we specifically took into account the climatic conditions of the countries where the athletes will have to compete and took the team to the camp.
— How does selection for the cadet national team go in Ukraine?
— Selection for the national team is held in several stages. In April 2021 the Cadets held the Championship of Ukraine, at which the team was formed. One more tournament was held in summer, where athletes confirmed their place in the National Team and their right to represent the country at international competitions. In October a commercial tournament, which is a part of the selection system for participation in international tournaments, was also held; it was the result of this tournament that final the whole list of cadet sambists for representing the country at the European Championship was confirmed.