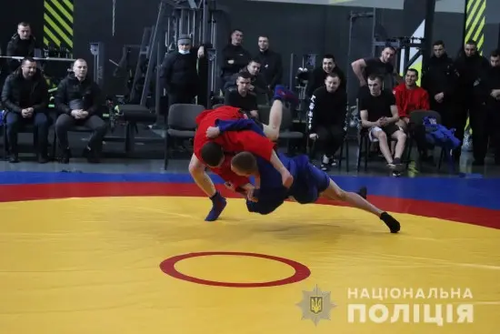 On the 5th of January in Rivne, Ukraine, in the "Spartakiad 2022" competitions were held in Sambo among police officers with the assistance of the sports club "Triumph".
Five teams from the territorial divisions of the Rivne region won the championship of the SSMP in the team, as well as in the individual offset in different weight categories. In the struggle for victory all participants of the tournament showed a high level of strength training.
By results of duels "gold" received a team of spetsnazov "Korda", the second place was at fighters of RPOP, the third — at the Varahsky Regional Department of Police.
In individual offset the first place in different weight categories took: to 64 kg — Vitaly Burmay, to 71 kg — Igor Markov, to 79 kg — Sergey Netrebich, to 88 kg — Andrey Oksenyuk, to 98 kg — Andrey Onishchuk and in category over 98 kg — Nikolai Arsenyuk.
Acting Chief of GUNP in Rivne region Sergey Kroshko congratulated all participants of the competition and awarded cups, medals and diplomas to the winners, wishing them further achievements in sports, realization of all plans and intentions.