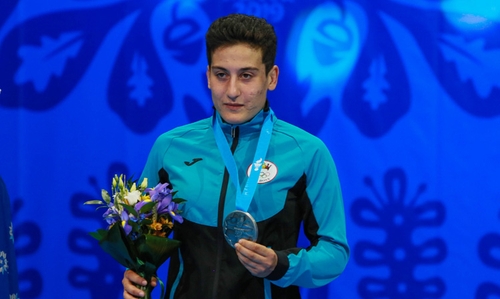 Sambist from Moldova Sabina Artemciuc won a silver medal at the SAMBO tournament in the program of the II European Games. This award proved to become the highest one at the Games not only for Moldovan SAMBO, but also for the entire national team of this country. As she returned back home, 22-year-old Sabina confessed that, when going to Minsk, she had not even dreamed of such an achievement.
'In fact, these were very tough competitions. With all my challengers being highly acclaimed, each chosen from more than one hundred people. It was very hard to make it to the top three. I'd probably spent more energy in my fights before the finals. So, in the decisive combat, I was no longer able to get a grip on myself physically, psychologically. I realized that at this stage I stopped. I must go on and work further,' Sabina Artemciuc told.
The athlete noted that the whole thing was in psychology, because she had previously fought with her opponent in the finals, Belarusian Vera Gorelikova, and quite successfully.
'I just failed to concentrate. I found it difficult, psychologically. She was ready to get to the finals, and I did not even hope to win a medal. Even if I thought to hit the medal stand, I already treated it as a great result. And I was not ready to get to the finals,' the Moldavian athlete said.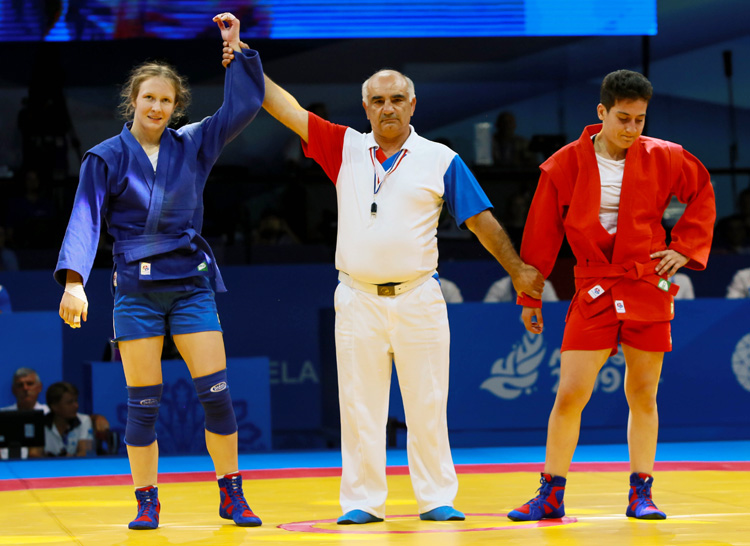 Before the finals, she called her mother who was silent for a long time as she could not believe that her daughter made it to the finals. How to act in a decisive combat, Sabina figured out all by herself.
'It takes years to get oneself prepared for these Games, to psych oneself up for everything that might happen. And here it turned out that for the first 2-3 hours I just couldn't believe that I'd reached the finals, and then I tried to concentrate again. You need great professionalism for this,' Artemciuc admitted.
Yet another decisive factor was that her challenger for the gold was Belarusian. As the Moldavian athlete stepped onto the mat, the stands burst into applause in support of her opponent.
'At that moment, I was already brought down a peg or two. It's great that their athletes have such a support. If we have a World or European Championships, I believe our fans will support us, too, then we'll spread our wings,' Artemciuc added.
The sambist confessed that she was making it to such a high award for six years. Along with her coach who believed in her and each time provided further impetus for work.
'This is the outcome of my work since 2013, my and my coach's. We worked our way to this medal for many years. This is a reward for his faith, for his toils. For me, European Games were just a dream. This is the highest award in my career that I have ever dreamed of. It is the most valuable and the hardest one. I have been gearing myself up for it for quite a long time. My coaches who worked with me at the training camp and at home are to be credited with this medal. I've fulfilled my goal. There is a medal. I'm happy. I was psyching myself up for the bronze, but it turned out to be the silver — that is, I proved myself higher than I imagined,' Artemciuc said modestly.