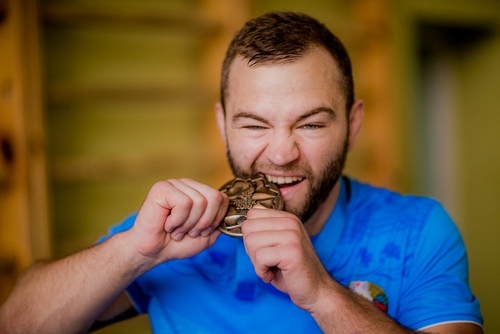 Among the huge number of medals won by Belarusian athletes at the European Games, this one stands out. Even the strongest sambo athletes, accustomed to the pain of endless injuries, pay tribute to the courage of Timothy Emelyanov, who underwent surgery on the cervical vertebra only three months ago.
Two scars remind him of this — on the neck and near the left thigh. He runs his hand over his thigh and remarks: "I feel that there is not a part of bone, but that's ok." In the same way, he refers to the injury of the back biceps obtained in the semifinal: "It's very common to happen during the trainings. It is not a great thing, in three weeks I will be training. "
We feel embarrassed that Timofey was forced to fight on the mat again. But he smiles: "It's ok, I will apply the technique which I could do." In other words, it seems that sambo athletes are made of steel!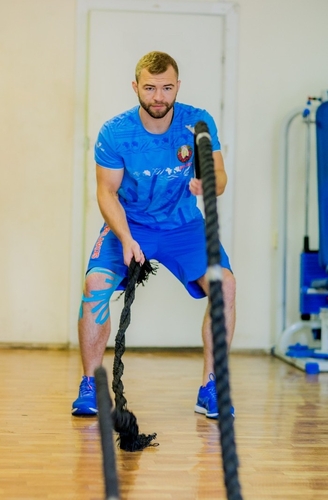 A long time ago I had problems with the cervical spine. When the pain got worse, normally, a couple of weeks I couldn't do anything. Being injured I had to train two or three months again. It's a circle.
After the open championship of the country in February I made an MRI. And the doctors said that the operation should be carried out as quickly as possible because the front hernia pressed on the spinal cord, and I was lucky that I wasn't disabled.
The operation was done in the NSPP of traumatology and orthopedics by neurosurgeons Sergey Makarevich and Kirill Pustovoitov. Thanks to them, everything went well. They replaced me with a c5-c6 disc, put an implant, took a bone from the hip, attached to the plate with four bolts, stitched and that's all.
It sounds scary.
Medicine has gone a long way. There is nothing to be afraid of.
Just do not say that you were not afraid.
Surely, I was afraid. I have never been to church, but before the operation I came in there. I confessed, prayed and went away. When you are fully awake right away the anesthesia, you can tell about what you think. I said the doctors that they had just repaired the future world champion.
Did you think about Sambo while the operation?
Yes, we have all been preparing for the European Games for too long, so that I could give up this dream. Frankly speaking, after the operation it was a surprise that they cut me through the neck, I thought that if the hernia was a cervical, then probably it would be done from the back. And only then I realized that everything was not so simple. Therefore, doctors have my respect.
Then, I was sent for rehabilitation to Aksakovschina. There the doctors are not from sports, and they were very surprised that in three months I am going to fight at the European Games. They twisted a finger at the temple: what a difficult operation you had! At any moment during the fight you could stick your neck into the mat, and only one talking head would remain from you.
We argued and even had an argument. Finally, we came to an agreement, and I began to recover by my own method. I woke up an hour before the start of the procedures and did the exercises in such a way as not to use the neck from 8.30 to 12.00 before the rehabilitation. I had numbness in my fingers; I needed to work on my hand.
Then I had lunch and went back to the gym on exercise therapy. There I spent another hour and a half doing exercises on my legs, on my back, on a press, in a way that the muscles should be trained.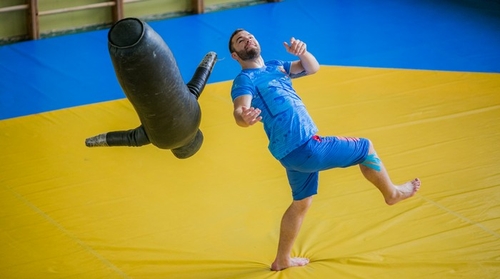 Did I become a pioneer?
I did not, because a similar operation Ira Kurochkina had a year and a half or two years ago. I called her to consult. She said that she started training only 8 months after the operation. But I did not have so much time.
At first, I trained in a bandage, took sparring partners less weight. All they are very good experienced fighters and they understood how to work with a person after an injury. I have established the line for myself what can be done and what is not at the training.
At the end of May I practiced without a bandage for the first time. And after that I went to "Stayki" there were two weeks left before the Games. I began to train at the national team level, doing two workouts a day. It was very hard, fighting on the same level with the guys that I used to win easily before. Then I came into the room and just fell on the bed. I was never so tired in my life. I was ready psychologically for the competition, but physically on 50 percent.
Did rivals were aware about your problems?
We did not talk about the operation done, but our team, of course, it was aware. Actually, Sambo is a sport, there no one will beat the knee if they see a kneecap. But, of course, something could happen during combat, it is unpredictable.
We arrived in Minks in our best shape — all the first numbers of the rating. Usually, I win with throws, but the first fight I won mostly by pushing the opponent. I lost the second combat to Russian, Andrey Perepelyuk.
Before we had on equal score 1-1. I won a fight with him in Moscow at the 2014 World Cup, but he took revenge there two years later. And now I got a painful hold and gave up. I only have myself to blame. Moreover I got a break in the faction of the posterior biceps of the thigh.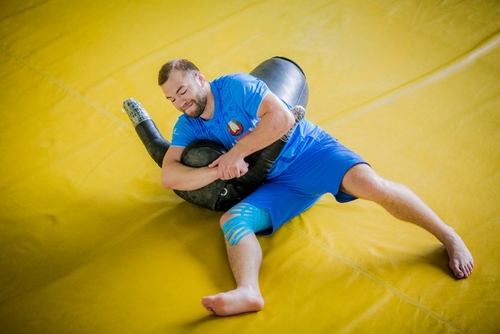 How did you then fight for bronze?
I used my will to win and hope. Anesthetics were given to me. I understood that I would not forgive myself for defeat. We have only two places in Sambo — the first and the third. The second, of course, we have too, but it turns out that you lost the last fight. I wanted to finish the tournament in a good mood.
I knew my Italian opponent. He became the prize-winner of recent Europe, having won the bouts during the competition and became the world champion, but I always won him confidently. Now, it was more difficult for sure, I had a plan of combat based on only one method. I caught him on it and the combat was over in two minutes.
How did you perform at a scale of 10 points? At 6, because there is a medal; in wrestling at 4. Still, I did not have enough time to get in shape. But that's ok, I will heal my leg and will start to train. There is the World Championship in November in South Korea.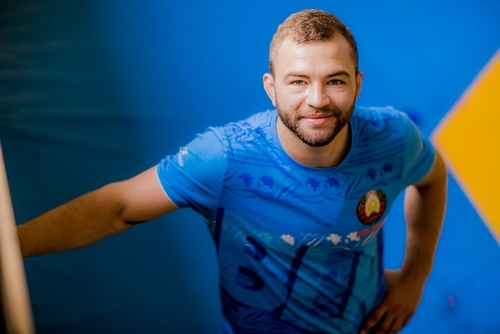 Why did you take such a risk, did you reach your expectations? These Games cannot even be compared with the World Cup. The atmosphere is very strong, the support is crazy. I have been to other European Games competitions. It was different from this edition, because there were not many Belarusians at the stadium. Sambo had a lot of fans, so that you could really fill the breath of the spectators. It is an amazing feeling, our fighters, those who can already be called veterans, also fought with all force. Clearly, it was very hard for them, so they wanted give up immediately the European Games. But having won so many medals, I think they will continue to fight. They will want to experience all this again. Perhaps, to take revenge, for those, who did not win here.
In any case, I will go to the South Korea only to fight for the first place.