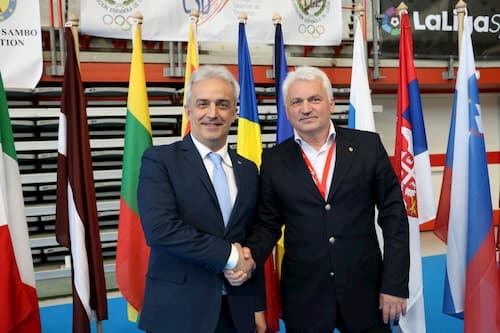 On the eve of the II European Games, famous Italian sports journalist Orlando Giuliano interviewed President of the All-Russian and European Sambo Federations Sergey Eliseev about young talents, Olympic prospects and Sambo development in Europe.
Mr Eliseev, how do you assess the level of the latest European Sambo Championship: excellent, good or normal?
— It's probably too early to say that it was excellent, but a very good organizational level. In total, I can say with confidence that the championship turned out to be very good: a wonderful sports palace, a comfortable hall for athletes and for spectators, all delegations were comfortably accommodated. By and large, there were no glitches or delays. The awards ceremony was carried out promptly and clearly. So I rate the competition level as very good.
Among the participants in general, who could you identify, who could enter the TOP 10?
— I would suggest concentrating not so much on people as on countries. Firstly, I consider it important to note the world spread of medals we had at the end — 21 countries left with awards, it is a very good result. I would single out the following teams: Serbia, Croatia, Macedonia, Italy, France and Romania. The Romanians have never had European champions among men, and now in the heavyweight division Romanians have superbly fought in the final with the Georgian athlete. And of course, I would like to highlight countries that are traditionally strong: Russia, Ukraine, Georgia, Belarus.
You can also say that today the level of sambo in the Netherlands has noticeably increased, athletes become stronger every year. I like the way they develop Sambo — they participate in refereeing and coaching seminars, invite experts to conduct master classes. Of course, I would like to talk about the organizers of the tournament — the Spanish national team. The Spanish team performed very well, winning 5 medals.
If I mention someone particularly, I would single out Maria Molchanova from Russia, who fought well, Laure Fournier from France also performed very confidently. Women from the Ukrainian team showed a good fight. From heavyweights — Romanian athlete NATEA Ilie Daniel.
In other countries, the usual change of veterans now takes place, who have been leaving quietly, as the youth functionally and technically become more interesting, and psychologically is ready to take the leadership.
Among the younger generation U25 have you noted any talents for yourself?
— I will not specifically mention someone particularly. I can say that the level of European sambo every year becomes more and more competitive. The competition becomes better just because the guys came from the junior team, went into the main adult team, and it is already beginning to step on the heels. If you look at all the participants in the tournament, the percentage of young people will be about 25%.
Sambo does plan to participate in the Olympics. How many categories would you like to see there?
— We believe that Sambo does not only plan, but would perform well in the Olympic Games. Today Sambo develops as good as any other Olympic type of sport, and even surpasses many others. We work very hard, so for us it would be great to have at least five weight categories among men and women at the Olympics. It would be a big win.
How do you define European sambo development: growth or stability?
— I would say that now there is a certain stage of stability, everything is quiet. But we have gained momentum, and now we gain power. I can feel it. I also see that many teams no longer bring 2-3 people to the tournament, but large delegations: the French — 19 people, the Ukrainians — the full team, the Georgians and Belarusians brought big teams, the Italians are gradually getting stronger. This is due to the fact that the National Olympic Committees began to pay attention to our sport, support national federations, additional funds appeared, resources, teams began to actively go to compete, so the competition began to increase. I think now there is a stabilization, an accumulation of energy. In a couple of years we will be shooting very hard.
How many participants from Russia arrived and what percentage of them are men and women?
— 27 athletes from all weight categories arrived from Russia, we brought the full team: 9 women, 9 men and 9 athletes in combat sambo. Therefore, the percentage here is 33.3% at 66.7%. As it should be according to the rules.
What could be improved in Sambo in order to attract more media attention?
— I think we need to give more advertising so that they know about our championship not only in Russia, but also in Europe and worldwide. I wish that not only we invited journalists, but also that they come themselves from all continents. The fact that we now have a live broadcast on the Internet, it is very important, this is a big plus. In addition in many countries are happy to broadcast on television our tournaments. But this is not enough, it will be good to inform people about the championship in advance, at least one month or better six months before the competition.
What do you think about sambo in Italy?
— Sambo in Italy develops in the same way as Russian sambo, and this is very perfect. The Italians began to develop sambo among children, children grew up in youths, youths in juniors, and today they win medals in the adult championship. Previously, Italian specialists worked like in most federations of the world, attracted athletes from similar types — judo, wrestling. Now they raise their sambo athletes. It is not so rapid, but the system itself is correct.
I would like to highlight the work of the FIAS Secretary General and the ESF Secretary General the head of the sambo commission in the national federation Roberto Ferraris, he really work very scrupulously, he created some training programs for coaches, judges and conducts regular seminars. Now is the time when his efforts began to give tangible results. Italy is a very promising country for us.