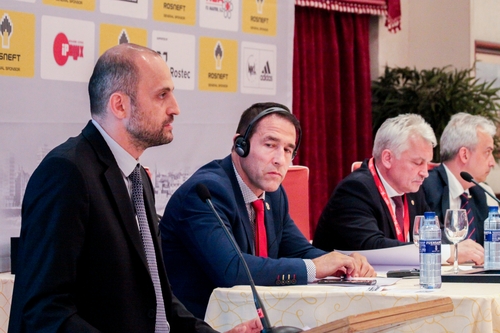 MOSCOW, May 18. / TASS /. A new international tournament in memory of the merited USSR sambo coach Levon Hayrapetyan included into the official calendar of the European Sambo Federation (EFS). This was reported by the President of the European and All-Russian Sambo Federations, Sergey Eliseev, to TASS.
President of the Armenian Sambo Federation, master of sports of the USSR, Levon Hayrapetyan, died a year ago, on May 15. His son Michael Hayrapetyan is a president of the Armenian Sambo Federation, after the death of his father, announced the initiative to hold the Memorial and submitted the proposal to the ESF. The competitions will be held on September 1-3 in Yerevan.
"I am sure that this tournament will have good perspectives. Firstly, Armenia is famous for its Sambo traditions, in the 70-80s of the last century Sambo was at the top thanks to the enthusiasts of our sport. Secondly, it is also important for the whole world sambo: the more such starts we have, the more popular our sport will be. Today, Michael Hayrapetyan continued his father's activity; he joined the Executive Committee of the European Sambo Federation. I am sure that he will organize the upcoming competitions in a best way, "said Mr. Eliseev.
Michael Hayrapetyan thanked the ESF for the opportunity to hold the first Levon Hayrapetyan Memorial in Yerevan: "I am grateful for the confidence you have shown. Such tournaments have their own philosophy; it is an opportunity to honor the memory of people, who have made a great contribution to the development of Sambo sport, and also to show the younger generation the best example how to live, work and succeed. It seems to me that such things will be important at all times, "said Mr. Hayrapetyan.