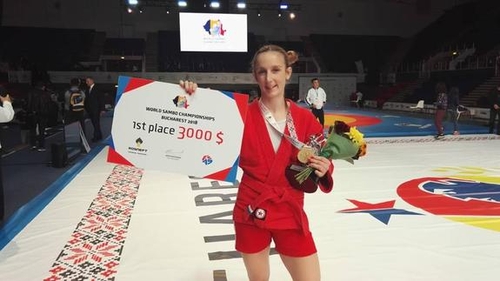 Laure Fournier is the first athlete from France in the history of the International Sambo Federation (FIAS) to win the Sambo World Championship. Only Guillaume ALBERTI had managed to win gold before in 1999 in the USA. She told the "arguments of the week" about her long way to this victory and what she thought about the Russian sambo athletes.
— How did you find out about sambo? Why did you fell in love with this sport?
— I have been practiced judo since 1998 and in 2008 I been heard about Sambo several times from Tiffany Le Gal, which at that time already won international medals. In 2012, my friend Samantha Le Cochgen invited me to the French Sambo Championship, where I won. As a result, I was selected for the World Championships in Minsk, where I won my first international medal, it was a bronze medal. I lose against Kalina Sefanova in the semifinals. She surprised me. It was this fight that made me love Sambo. There is an extraordinary amount of techniques, combinations, tactics, with all these tools you can win. I just had to find a way to become better than Kalina.
— In your opinion, why not only men, but also women should practice Sambo?
— Like other sports, Sambo is a great way to stay healthy and fit. In my opinion, it has many advantages. Sambo inspires people, especially women. Being engaged in Sambo, people set goals and break down all prejudices to achieve them. Heavy battles on the mats make you fight in life. In addition, a woman, who is able to protect herself looks more confident. And this usually holds back any potential attacker on the streets.
— You became the first French woman to win the World Sambo Championship. What emotions have you experienced when you were awarded a gold medal? Was it a long way to win?
— I have been striving for this medal since I started sambo. I trained hard to get it. It was incredible to be on the medal podium. I was so proud, feling that I had achieved something that would stay with me for the rest of my life. I am very happy to win the gold. I hope to win more. The joy of this medal will be never forgotten.
— Do you think that the interest to Sambo in France grew after your successful performance at the World Championships in Bucharest? What is the situation with Sambo in your country?
— Sambo has been become more popular in France. After my victory, I think many sambo athletes start to believe that everything is possible. Only with one condition, if you really want to achieve the goal and train enough. I hope that even more French athletes will become world champions.
— Spain will host the European Sambo Championship. How does the preparation go for the tournament? Is the French team ready to win gold?
— Preparation is going well, but, unfortunately, in our country there is no national center, where the whole team could train in one place. So all sambo athletes simply train in their clubs, but they are rather strong. I expect that in Gijon we will take a lot of medals and several titles.
To mention, the Great Prize of Paris, an annual Sambo tournament, will be held in May with participation of about 100-150 athletes. Of course, for us the main rivals are the Russian athletes, but athletes from Spain, Morocco and Latvia are also very strong.
— Have you been to Russia? What do you think about Russian sambo athletes?
— There have been many times. Sambo is a Russian sport, so if you want to be successful, you must train with the best, who are the Russian athletes! Most Russian athletes practice sambo all their lives, so they have a splendid technics and use excellent tactics. They are also professionals, so they are strong and determined to win.
— There are idols in the sport?
— I think that I have a sports idol, but I usually look at goal-oriented athletes who are also champions. They do not just want to win, but also set an example to the Youth.
— You are a member of the FIAS Executive Committee. What is your responsibility?
— I am the chairman of the FIAS Athletes Commission. In addition, I am a member of the executive committee of the International Sambo Federation. The mission of the commission is to present the views and opinions of athletes, inform athletes about the FIAS activity, as well as work on the further development and promotion of Sambo. This year we would like to organize meetings of athletes during major events to get feedback, develop combat sambo for women and mixed teams, and also create an electronic journal with articles on sambo history, tips on nutrition and training, interviews with athletes.
— Last year, FIAS received temporary recognition from the International Olympic Committee. How did the French athletes react to this news? In your opinion, could the federation receive a permanent recognition?
— Of course, the French athletes were very pleased with this news, especially in connection with the Olympic Games in 2024 in Paris. Thanks to the recognition the NOC of France (National Olympic Committee) pays more attention to Sambo. I hope that we can work hand in hand on the eve of the Olympic Games of 2024.
I sincerely believe that we will be able to receive permanent recognition if we continue to develop sport around the world and use ideas from young athletes and coaches.
"Arguments of the Week", an author Ksenia KALUGA, translation made by Anastasia Nechepurnova