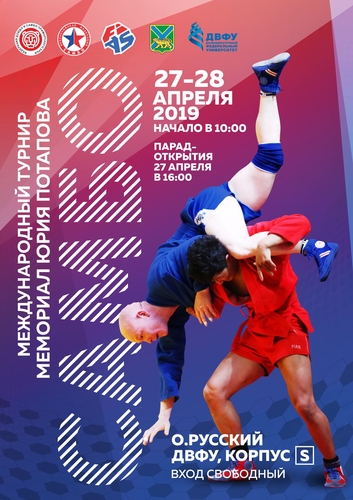 According to the unified calendar plan of interregional, All-Russian and international physical culture competitions and sports events of the Ministry of Sports of Russia for 2019, the city of Vladivostok will host the next international A-category SAMBO tournament "Yury Potapov Memorial" (W, M). There is a purpose why Vladivostok became the venue of the tournament. The competitions are dedicated to the memory of Yury Potapov, the first president of the Primorye Sambo and judo Federation, the vice-president of the All-Russian Sambo Federation.
The Universal Sports and Recreational Centre on the Russky Island will become the venue for the competitions. More than 150 participants from 20 regions of Russia, Europe and Asia will come to take part in the tournament.
In 2005 Sambo got the status of a national sport. Athletes of our region are particularly distinguished in this sport. November 30, 2018, there was a historic event at the meeting of the Executive Committee of the International Olympic Committee in Tokyo — Sambo was officially recognized from the IOC.
The tournament has been held for the 22 time since 1998. The first three years it was organized as the All-Russian tournament, and later it became an international competition. Annually the quality of competition holding became higher, that is why the tournament was awarded the highest qualification (tournament category A), the best sambo athletes from all countries of the world come to take part in it. This is a qualifying tournament of rating for the European Games.
There are up to 5 athletes in each weight category, they represent the adult and junior Russian national teams. It makes the tournament even greater competition, and the spectators would enjoy many bright and interesting bouts. Men and women will perform in 9 weight categories. It is to highlight that this year for the first time men in 5 weight categories will fight in combat sambo.
Winners and prize-winners of the tournament will be awarded a medal and a diploma, as well as memorable and valuable prizes. Athletes, who will take the first place, will be awarded the title "Master of Sports of International Class".
Sportsmen from Russia, Azerbaijan, Armenia, Belarus, Germany, Georgia, Israel, Spain, Kazakhstan, Kyrgyzstan, Lithuania, Moldova, Mongolia, Uzbekistan, South Korea have already confirmed their participation.
The competition will be staged in 2 days (April 27-28), the beginning will be at 10.00, the solemn parade will be held at 16.00 on April 27. Entrance for spectators is for free!
If you are not able to come and watch the competitions, the online broadcast will be organized on the ESF website.