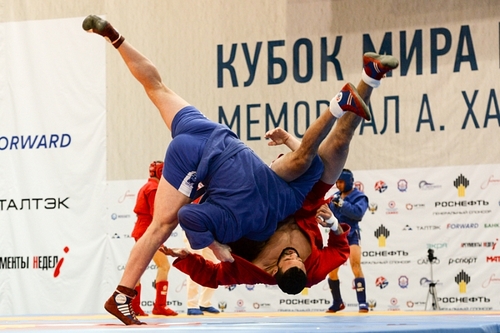 World SAMBO Cup "Anatoly Kharlampiev Memorial" will be held in Moscow on March 22-23. More than 250 sambists from 33 countries of the world will take part in the competitions in the Luzhniki Small Sports Arena. Participating countries: Armenia, Azerbaijan, Bangladesh, Belarus, Cameroon, Cuba, Cyprus, Czech Republic, Estonia, France, Georgia, Germany, Hungary, Italy, Ireland, Japan, Kazakhstan, Korea, Kyrgyzstan, Latvia, Lithuania, Moldova, Mongolia, Morocco, Netherlands, Philippines, Romania, Russia, Serbia, Spain, Turkey, Turkmenistan, Venezuela. Live broadcast of the competition will be held on the ESF website.
Schedule of the online broadcast of the World Cup in Sambo "Kharlampiev Memorial" 2019
Friday, March 22
10:00 — Preliminary bouts.
Women: 52 kg, 60 kg, 68 kg, 80 kg
Men: 57 kg, 68 kg, 82 kg, 100 kg
Combat SAMBO: 57 kg, 68 kg, 82 kg, 100 kg.
17:30 — Opening Ceremony. Final bouts. Awarding ceremony
Saturday, March 23
10:00 — Preliminary bouts.
Women: 48 kg, 56 kg, 64 kg, 72 kg, +80 kg
Men: 52 kg, 62 kg, 74 kg, 90 kg, +100 kg
Combat SAMBO: 52 kg, 62 kg, 74 kg, 90 kg, +100 kg
16:00 — Final fights. Awarding ceremony