News of Belarus. This weekend, Minsk Palace of Sports hosted the Belarus Sambo Open of category A for the prizes of the President of Belarus, reported STV-Sport program.
This tournament is considered as a test competition before the second European games, which will be held in our capital in four months. During this time, athletes will have time to reach the peak of their physical form; coaches will have the opportunity to select the best team for the competitions. The organizers have also a lot of work to accomplish — as this tournament is the main rehearsal for them. At least, now we can say that the Palace of Sports is ready for the main summer competitions.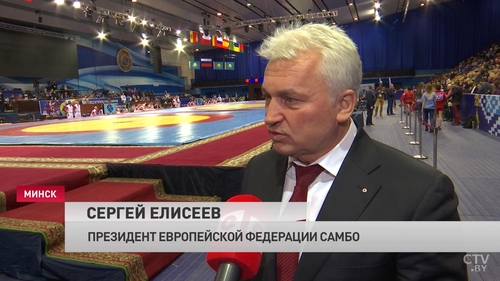 "We do not see any difficulties that the European Sambo Federation and the Organizing Committee of the European Games may face with in this complex, in this palace, which will be held in four months here.
Thanks to the biggest competitions, which we hold here, the atmosphere of Sports palace is full with sambo athletes' prayers.
I suggest that the city is really ready. I am proud that European sportsmen will come here to take part in the European Games", declared Sergey Eliseev, President of the European Sambo Federation.