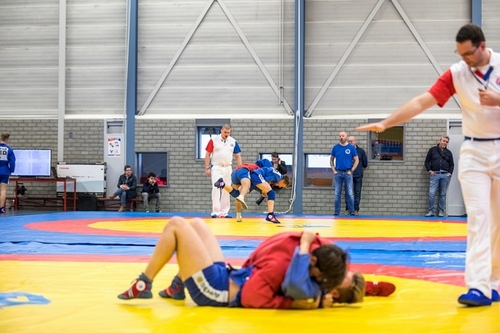 The Netherlands SAMBO Championships took place on January 26 in the city of Ommen. Cadets, juniors, and adult sambists fought not only in their weight and age categories, but they also challenged the titles in the open category in the competitions following the main part of the tournament.
The Championships had been arranged by Budo Promotion Ommen, on behalf of the Dutch SAMBO Federation. The tournament was a qualifier for the Netherlands national team that is going to take part in the European and World SAMBO Championships.
Another peculiarity of the tournament turned to be a pilot project within the competitions among cadets that sambists with physical limitations performed in.
The organizers observe the increasing popularity of combat SAMBO that is reflected in the permanent increase in the number of athletes who participate in competitions. This time again, the competition for the medals of the national Championships in combat SAMBO has grown significantly.
'This year, there were many representatives of various martial arts among the spectators who had never practiced SAMBO previously. These are the young athletes who are curious about SAMBO, and some of them have even signed up for SAMBO clubs in time of the tournament, for they plan to engage in this sport. Certainly, we are happy to report this fact, as it tells about the expansion of our martial art and the growth of its appeal for young people,' noted Frank Ningbers, Secretary General of the Dutch SAMBO Federation.
As soon as in March, another tournament which sambists of different countries can participate in will take place in the Netherlands.
'We can proudly state the success of the national Championships, and now we can turn all our efforts to the upcoming Dutch Open International tournament scheduled for March,' added Ningbers. 'The Dutch SAMBO Federation and all its members are looking forward to this event. We do hope that as many sambists from various countries as possible will take part in the tournament, and we invite everyone to join in.'
For more information, each national federation, club, athlete, or coach is welcomed to contact the organizers by email: info@sambo-nederland.nl