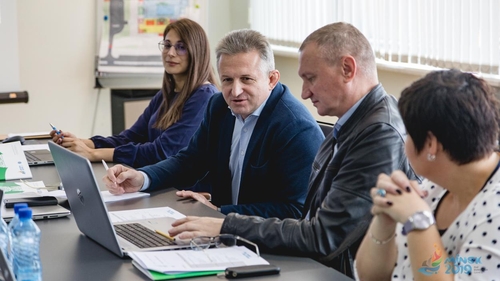 Technical delegate of the European SAMBO Federation at the II European Games, the FIAS Executive Director Sergey Tabakov inspected the readiness of Minsk to the 2019 Games. In the course of his visit to the capital of Belarus he checked on the progress of preparation of the Palace of Sports, to host the SAMBO competitions at the II European Games.
During the inspection of the sports complex's infrastructure the technical delegate checked the major and minor arenas, assessed the competition and warmup areas. Also, the expert sounded out the various issues of conducting and refereeing the SAMBO competitions at the forthcoming multisport forum.
'The Minsk Palace of Sports is well known to the European sambists, as it annually hosts the traditional International SAMBO Tournament for the Prizes of the President of the Republic of Belarus. Nonetheless, in the course of preparations for the European Games, an additional modernization is to be carried out that would make this site even more convenient for sambists,' remarked Sergey Tabakov.
It is worth mentioning that the history of the Minsk Palace of Sports spans over half a century, and it is one of the city's oldest sports facilities. The Palace is designed to carry out competitions in more than 22 different kinds of sports.
Further in the course of the visit, the meeting of the technical delegate of the European SAMBO Federation Sergey Tabakov with members of the "II European Games 2009 Directorate" Foundation and representatives of the Byelorussian SAMBO Federation took place. The parties discussed the conduction of the dry run event, key dates of arrival of the sports delegations and officials, the competition period, as well as the issues respecting the submission of the sports applications, recording of the results, accommodation of athletes, their transfer to the venue and other corresponding matters.
During the SAMBO tournament at the II European Games, 18 sets of medals will be up for grabs, with 144 athletes to compete for them. Thus, men will compete for victory in 9 weight categories: under 52, 57, 62, 68, 74, 82, 90, 100 kg and over 100 kg. Competitions among women will be held in the under 48, 52, 56, 60, 64, 68, 72, 80 kg and over 80 kg weight categories.