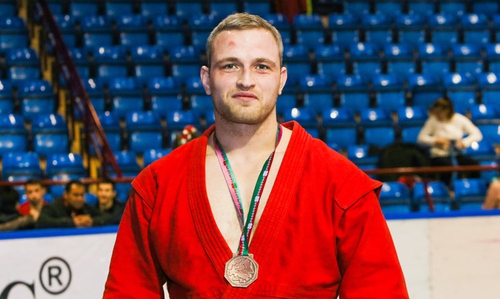 Latvian sambist Viktor Resko is one of the key members of his country's team. He regularly gets on the podiums of the largest international tournaments, yet most often he takes only the third podium step. In his exclusive interview to the FIAS website, Victor reveals what his progress up the podium has been hampered by, how to earn a II European Games' berth, and talks about a generational shift in the national team and training practice with his son.
— Viktor, we are getting quite accustomed to seeing you taking the third places at the major international tournaments. I wonder when you are going to make your way up the podium?
— I'd be happy to get a bit higher myself yet I still can't make it. Actually, about 5-6 years ago there was a certain concern about one other issue: I constantly ranked fifth. So it's very well that I have managed to overcome this barrier, and now I regularly get the third place and the bronze. Consequently, I can leave a kind of mark in history and bring medals to my country. And yet I hope that my next step would be the finals at a minimum.
— And what's the chief reason why it doesn't happen now, — psychology or experience?
— It's the experience level of my opponents who practice SAMBO solely. You see, I train and perform in judo, as well. SAMBO is developing in my country, however, it's still rather difficult to find strong sparring partners, and this is the chief reason, I believe. A bit is lacking here, a bit there, and ultimately those little things tend to accumulate into something that impedes my progress towards an ideal result. In fights that are closer to the finals details play a decisive role. At the International Sambo Tournament for the Prizes of the President of the Republic of Belarus that was held in February I lost at a minimum: I was leading 1:0, and in three last seconds, the score turned 1:1. In the end, I lost by the last move. I think this little shortfall is caused exactly by the dearth of practice in SAMBO.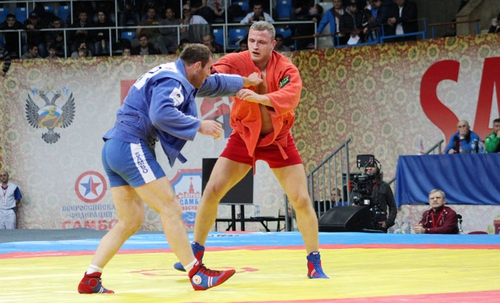 — For the meantime, Viktor Resko emblematizes the sambist Latvia in the international arena. When do you think we could see other representatives of your country climbing up the podium?
— Our young generation is well under way: there are some good results in the competitions of cadets, among both girls and boys. And if I'm not mistaken, there are some medals among juniors, too. So we are looking forward to the arrival of up-and-coming stars in adult SAMBO. Now, we're on the threshold of a generational shift, with the dinosaurs retiring and the young sambists taking their place.
— Are you planning to share your experience?
— I've got a son, he's 3 now, and I have started to train him already in SAMBO and in judo alike. Chances are that in 10-15 years I'd be going to the international competitions in the capacity of a coach. Although many experienced experts tell me that training your own children is not quite good. You'd better send them to some other teacher who might train and reprimand them whereas you would be prone to dote on them. Or else you might end up with admonishing him in a gym, and pampering him as you come home. Yet while my son is still so little, let it be his fitness practice. And when he grows up a bit, I would certainly direct him, and let him choose his area of development for himself.
— This year, the qualification for the 2019 II European Games that will be held in Minsk is going on. Do you take part in this race for the ranking points?
— Yes, of course! I will try and give my best shot. I've got some results in the international arena, and they push me forward. I have to perform steadily now, in order to score a bright win in a year and a half at the European Games in Minsk — and instead of taking the third place, to struggle for the victory in the finals.