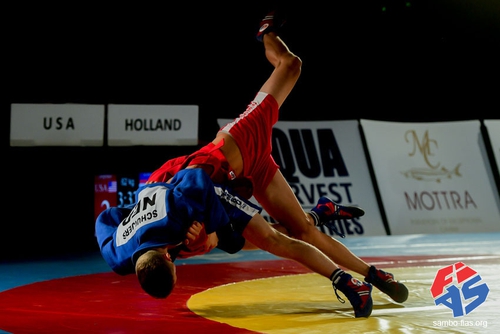 The SAMBO Presidents Cup in London 2017 will be broadcast from November to the end of December 2017 on Kombat Sport TV (sfr sport group).
The two-part report, made by the journalist and producer Hakim Djelouat, embraces the fight of the best European and world athletes from 15 countries.
Hakim Djelouat also went to Colombia in 2017 to produce the exclusive report on the Pan American Championship, which will be shown in the same programme.
Upcoming broadcasts are coming on Wednesday:
November 29, 2017 at 21.30 (CET).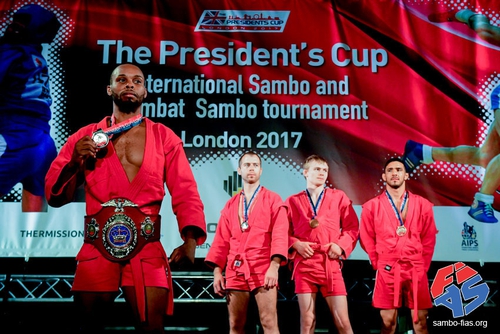 Let us to remind the results of the team competitions:
SAMBO
1. Russia
Men: Timur KOCHERGIN, 62 kg; Michael SERGEEV, 68 kg; Pavel CHUPRASOV, 74 kg; Aleksey KORNEEV, 82 kg; Roman YATSENKO
Women: Aiko RI, 60 kg; Irina GROMOVA, 64 kg
2. Great Britain
Men: Marian MELNICHUK, 62 kg; Lewis BROOKS, 68 kg; Billy WILSHER, 74 kg; Ryan COTTOM, 82 kg; Tom NICHOLLS, 90 kg
Women: Izzy NAMEY, 60 kg; Francesca ASPEY, 64 kg
3. USA
Men: Oleg DOPILKO, 62 kg; Brandon WORTNEN, 68 kg; Salama SALEM, 74 kg; Adrian BERNAL, 82 kg; George PRANGISHVILI, 90 kg
Women: Regina ARIAS, 60 kg; Sandra SZOGEDI, 64 kg
4. Mexico
Men: Oscar Hugo MORALES, 62 kg; Guillermo BARRIENTOS, 68 kg; Manuel Alejandro SALCEDO, 74 kg; Daniel VAZQUEZ, 82 kg; Jesus MARTINEZ ROSAS, 90 kg;
Women: Diana PEREZ, 60 kg; Monica MUÑOZ OLMEDO, 64 kg.
Combat SAMBO
62 kg
1. Keron BOURNE (TTO)
2. Pavel KULESH (RUS)
3. Guillermo TORRES CERVANTES (MEX)
3. Jakub BABIAR (SVK)
74 kg
1. Stepan KOBENOV (RUS)
2. Johnson JAJOUTE (USA)
3. Enrique Carlos ROMAN (MEX)
3. Domingo BICKHARRY (TTO)
82 kg
1. Laziz ADIZOV (RUS)
2. Brian JONES (USA)
3. Paul ROGERS (GBR)
3. Matthew COLQUHOUN (JAM)
100 kg
1. Dmitry LEVASHEV (RUS)
2. Joseph MARTIN (TTO)
3. Martin MCDWYER (GBR)
3. Adrick CROES (ABW)
Follow the channel TV Kombat Sport to watch the report (CET).