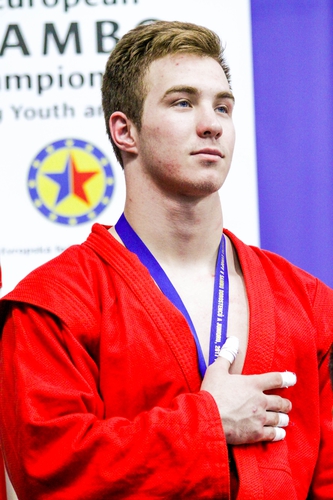 Chekurov Nikolay (Russia) — 81 kg
"This gold medal brought me incredible feelings, which I have never felt before. It is unspeakable happiness!
I finished the bout preliminary at the end of the semi-final by injuring the knee of the Georgian athlete. That was not so difficult for me. But it was hard in the final. I was afraid of making any movements, but during the bout I got my confidence and finished successfully the bout. I dedicate this victory to my parents, my sister, and my relatives, and of course, to my coach Sergey Putchkov".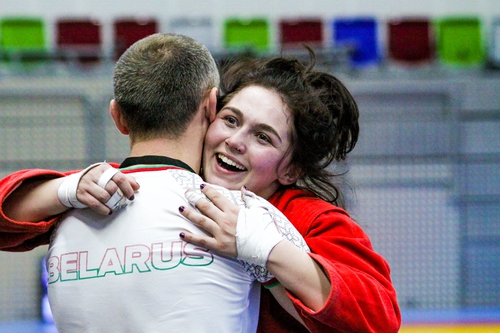 Briahanskaya Yana (Belarus) — 60 kg
"I had a bout with the Lithuanian athlete in the final, we had met with her before at the tournament in Lithuania. I applied a painful hold and won". I had my confidence before the bout, but at the same time I was worried that I could do a stupid thing. I was fully concentrated on the bout and managed to do a throw, which I have never been able to use before.
The medal means a lot to me. Last year was not successful for me: the third place at the European Sambo Championship among Youth and Juniors in France, no medal at the World Sambo Championship in Romania. I even wanted to give up the sport. I am grateful to my coaches, they inspired me to continue as well as a friend of my Maria Kondratieva, who supported me a lot all the time".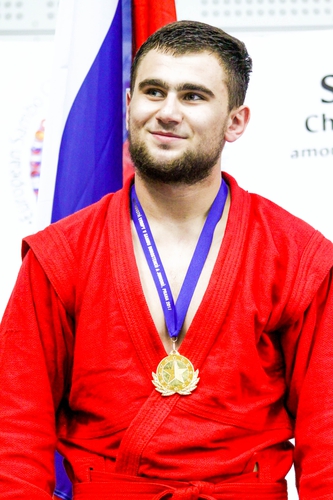 Poznakhirko Gleb (Russia) + 87 kg
It is a great pleasure to get the gold medal today as it's my birthday! I am happy and my country is proud of me! My parents watch TV and cry from happiness. Russia has got the first place! I dedicate this victory to them. The first bouts were not hard for me, I performed steadily. I had a very strong competitor in the final. He thought that he would beat me, but at the moment he made a mistake I caught him and won.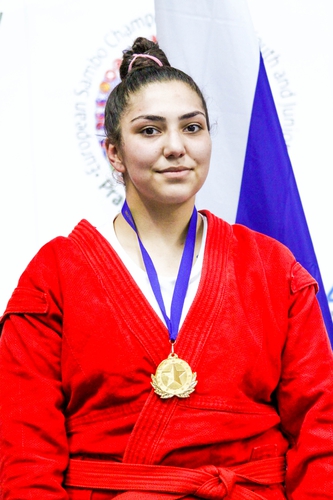 Makhmudova Zinaida (Russia) + 80 kg
First of all, I would like to thank my coach Vladimir Borodin for his work. He prepared me mentally and physically. I wouldn't have won without him. I got all the results thanks to my coach. I also would like to thank my family and my friends. This medal is important to me as a confirmation of my work. I worried a lot because that was my first final at the European championship. In my view it's very important to be well-prepared mentally for the competitions. Mental preparation and mental hardiness have to be trained as well as physical.
Before the bout I was so vulnerable that I've almost found myself burnt out. Thanks to the national coach Nina Novgorotseva I got my confidence. I am grateful to her, all national coaches and to my sparring partners. The gold medal gave me a feeling of happiness, especially, at the moment when I called my parents and said that I got the first place. It's fantastic!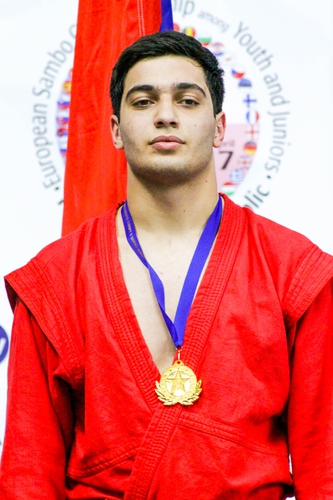 Sahakyan Grigor (Armenia) — 90 kg
The final was the hardest bout at this competition. My rival was in a perfect physical condition. It was hard to throw him. This victory is not only a simple performance for me, my dream comes true!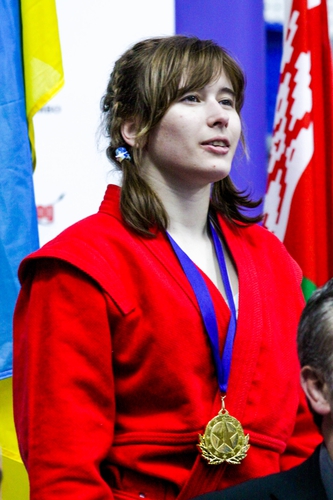 Vashchenko Lidiia (Ukraine) — 56 kg
I had a strong rival in the final. I got nervous before my bout, but I did want to win at the European Sambo Championship among Youth and Juniors. And I am so happy now! My coach guided me during through the fight. He was telling me what to do and how to act during the bout. I did my favorite throw from standing position through my back, I used one side grip. I won thanks to this throw. I am so happy! I would like to thank all my coaches who always worked on my mistakes together with me and led me to victory.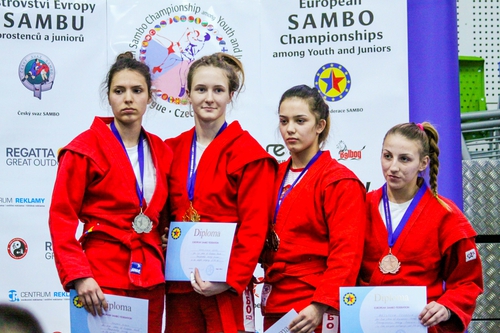 Garelikova Vera (Belarus) — 56 kg
According to the draws I had not any bout in the first round. After the first round I fought with a rival from Russia. I planned very well the bout and I won 5:0. An athlete from Ukraine became my rival in the final. My coach and I worked on different issues to prepare me to the final. I followed my plan during the final. I used an arm-lock and won. It was a great pleasure to fight in the final, I am filled with emotions. I do trainings together with the girls from national team. Sometimes we train in pairs and it helps. For example: Marina Zharskaya (world champion, −52 kg), Tatiana Matsko Ekaterina Prokopenko. I dedicate this victory to my coach, my parents and to my country — Belarus. I am grateful to all supporters; it helped me a lot and gave me more forces to fight.