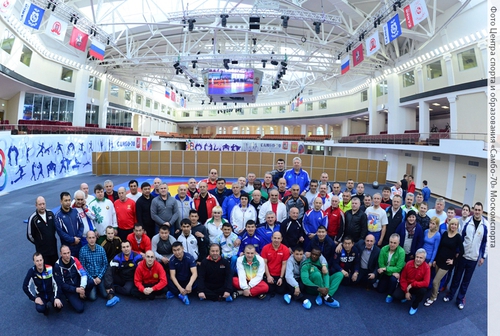 More than 100 referees from 18 countries took part in the three-day International Seminar for referees on the eve of the World Cup "Memorial of A. Kharlampiev". They are from Russia, France, Germany, Cameroon, Spain, Serbia, Ukraine, Moldova, Belarus, Latvia and other countries.
The seminar was delivered by two international referees Boris Sova and Nikolai Malyshev at the Center for Sports and Education "Sambo-70" of Moskomsport.
During the seminar the referees saw in details the features of the new sambo rules, introduced as an experiment, by the International Sambo Federation since January 2015.
The requirements for sambo uniform, technical criteria for evaluation of technical changes, and methods of counter holds and throws against the attack, as well as suffocating and painful techniques in combat sambo and actions and tactics of referees' work on the mat and many other questions were examined.
The seminar's participants could grasp the nuances of refereeing during the demonstration on the mat. There was a presentation of the most difficult technical moments on the TV screen.
At the request of the participants a tour around the sports complex "Sambo-70" was organized.
On the final day of the seminar the participants went through the examination, as a result 64 specialists received certificates confirming their right to judge in international tournaments during the next two years. We congratulate the all the participants with success!