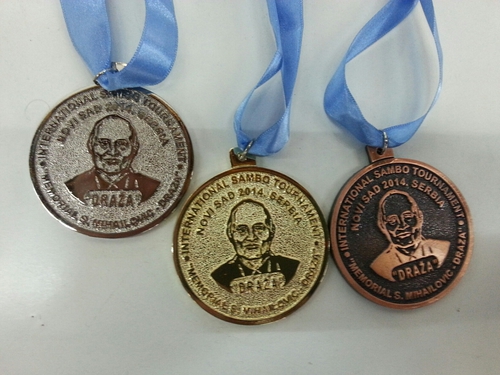 International tournament Memorial S. Mikhailovich (M&W) has been held this Saturday on 13th of September in Novi Sad, Serbia. On the sambo mat measured their strength national teams from Serbia (University of Novi Sad and University of Nis) and Croatia (University of Zagreb and University of Osijek).
After very interesting and exciting semifinals, two mixed teams (male/female) from Universities of Novi Sad and Nis went to finals. The team from Novi Sad University became the winner of this Memorial, which consisted of following competitors: −74kg (m) Miroslav Begovic; −56 kg (f) Stefana Vojnovic; −82 kg (m) Vukasin Kovacevic; −68 kg (f) Ivana Jandric.; 90 kg (m) Dragan Begovic; +80 kg (f) Milica Zabic and +100 kg (m) Vladimir Gajic. Medals were awarded by Mrs. Snezana Mihailovic, wife of Serbian Sambo Federation founder (S. Mikhailovich).
After the competition a joined camp was held for all the participants of the tournament.
Furthermore, sambo referee seminar has been held in Novi Sad in order to promote women's sambo in Serbia. This seminar was a part of activities organised within Day of Sambo.