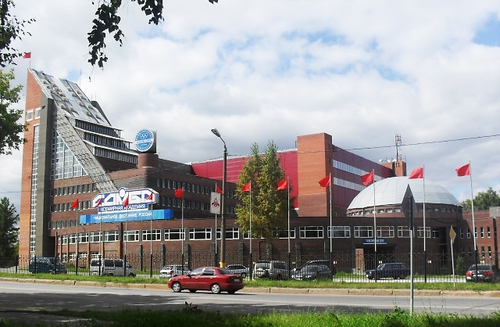 This year have seen a momentous event — the 50th anniversary of Kstovo sambo school. President of the All-Russian sambo federation Sergey Eliseev attended both the unveiling of Mikhail Burdikov' memorial and the Russian sambo championship among masters. He shared with us his impressions and gave interview to website sambo.ru concerning crucial role of Kstovo sambo athletes in the history of this type of sport.
Many great things are started from scratch. Building of a big sports complex is started from one stone. Sambo section gives birth to a new sambo school.
"Do not give up" — motto on the long way to achievements, which have been always the solution of any problem and obstacle.
That was namely the approach of Mikhail Burdikov — legendary founder of the world sambo academy, trainer, teacher, wrestler, sambo athlete. That was his life-work.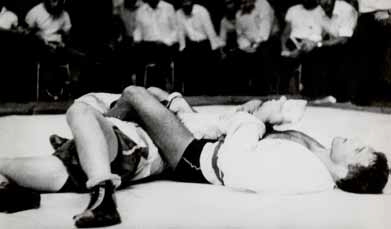 "Set the goal and move forward". It wasn't a simple way. It was better to die for him than to give up.
Unfortunately, Mikhail Burdikov died on February 8, 2013. He died one year before the 50th anniversary of Kstovo sambo school.
He had planned a lot for this great event and inspired others. However, his destiny was shaped in a different way. His followers had have to organised the anniversary without his participation.
Solemn events were started with unveiling of Mikhail Burdikov's memorial. The memorial is established in the court of the first building constructed under his helm.
"This is a fantastic work, very similar to him" — spoke highly of this memorial many followers and amateurs gathered in this summer day on this occasion.
All interested people enabled to the construction of this memorial such as: sambo athletes, academicians, Kstovo inhabitants and others.
Everyone kept their memories of this remarkable man. Friends cherish the gifts received from the hands of the great wrestler. Followers — diplomas with his signature and medals ... descendants inherited from Burdikova huge sports academy and the greatest sambo school. This gift will be kept by sambo community, passing from generation to generation.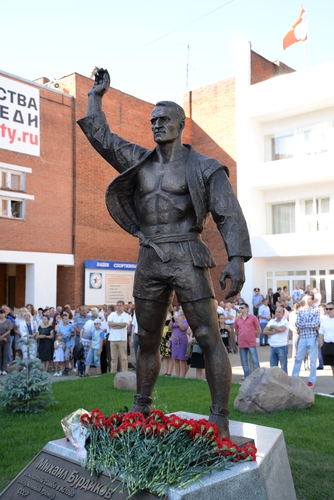 "We are born to contribute to this world. Otherwise, why are we here? " Lev Tolstoy
Relay race from the past to the future
They say that Harlampiev called Mikhail Burdikov his heir.
He created a whole sambo trend, his fighting style, the famous school of parterre. A style that has changed the sport of sambo — many people took it as a basis, with different attitude and technique and also tactics.
This style brought many victories to Kstovo sambo athletes. The brightest representatives of this style are as follows: six-times world champion Sergey Lopovok, four times world champion Evgeny Esin, multiple world and European champions Nikolai Baranov, Alexander Dunayev, Alexey Arkhipov and many others.
Mikhail Burdikov wrote a whole volume to the annals of our sport. The history has not yet appreciated his contribution. Descendants eventually will realize how big contribution of Mikhail Burdikov to the sambo development. The same thing happened to Oshchepkov, Spiridonov, Kharlampiev Chumakov, Vasiliev. I put Mikhail Burdikov in one rang with the founders of sambo.
During five decades Kstovo was the point of attraction of the entire world sambo. Here a lot of eminent teams passed the trainings: national team of the Soviet Union and Russia. The World championships and the World Cups were held here. Today Kstovo sambo school is the oldest in the world.
It celebrated the 50th anniversary, while the average school sports live cycle is 15-20 years. And over all these years, its undisputed leader was the same person.
The first students of the school grew up, they turned to 50-60 years, they led to the Sambo sports hall their children, and so on. Not two, but three or four generations of sambo athletes have grown in Kstovo families.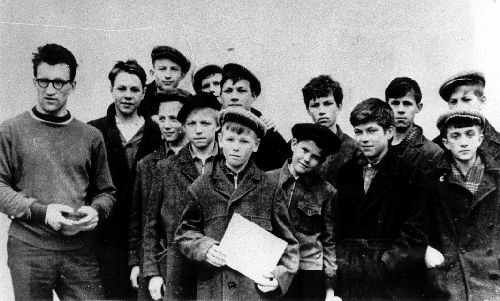 "Teacher, figuratively speaking, enables to the cohesion of times, he is a link in the chain of generations. He seemed to be passing the baton from the present to the future. " M. Gorky
A man of his life-work
An interesting fact: Mikhail Burdikov is the same age as sambo. He was born on November 19, 1938. And the official date of sambo recognition is 16 November 1938.
In 1964, Mikhail Burdikov accidentally arrived in Kstovo, he was on a business trip.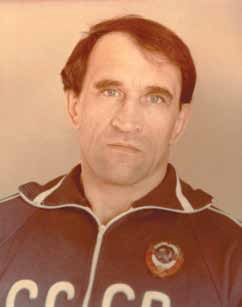 In one of the documentary films made in the last years of his life he Mikhail Burdikov recalls: "When I moved to Kstovo worked as installer. I was very healthy and athletic, and the idea to set a section on a voluntary basis came to mine mind. Three months we had trained and the trip was over. We had to leave in Dzerzhinsk, mine wife and child waited for me. I put all the guys in the row — 45 people — and began to say goodbye. And almost everyone had tears in their eyes ... I stayed here. Then, I worked for the sports committee, the salary was three times less than that I gained as the installer, but I have never regretted. "
Nobody knows from what source this love to sambo came to him hitherto. At that time sambo was one of the youngest sports. He learned few tricks just to stay in shape and then I realised that it was not just a fad, but also a real devotion. He had been feeling that all time.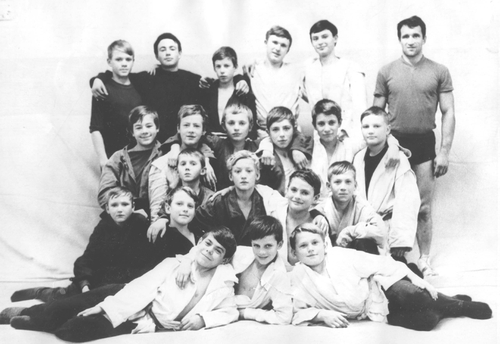 "Choose a job you like, and you do not have to work a single day in your life." Confucius
People who change reality
Kstovo is a small country town with a population of about sixty thousand people. Veterans tell a funny stories when Fernando Compte, the first president of the International Sambo Federation was telling about Kstovo sambo school: "You are not kidding me, guys? I saw the map of the Soviet Union, but there was no such a city on it, I swear ... "
Mikhail Burdikov and his students built the World Sambo Academy in this unknown city to the world.
Colleagues recall that he did not see any obstacle to open a sambo school, he just set a goal, did not see any obstacles. He had struggled and as a result the building permit was given. As usual, there were not enough of funds and Mikhail Burdikov with his colleagues had to accomplish the work of installer, foreman, plumber and bricklayer and carpenter.
Sambo athletes built Kstovo sambo school.
In the same documentary film Mikhail Burdikov says, showing his callused palms: "If it were not for the athletes, it would not have done, because it works like this: two hours of training and two or three hours building. All the dirty work done themselves. They do everything, concreted and so on ... "
However, the physical work was not a major obstacle to sambo. That was a time of perestroyka, the early 90's, while the country underwent financial and political problems.
"He was a true fan, — says Nikolay Medvedev. — He was exhausted, but pursued to implement his ideas, going the every necessary administrative body for that. "
In 1993 the 17th World sambo championships was held in the academy of sambo. Three gold medals from 10 came to the treasury of the Russian team thanks to the sambo athletes from Kstovo. At that time there was no such a school capable to reach this high result in the world.
Before the World Sambo Championships were held in Moscow, Kiev, Paris, Montreal .. Now in Kstovo ... All Russia was delighted.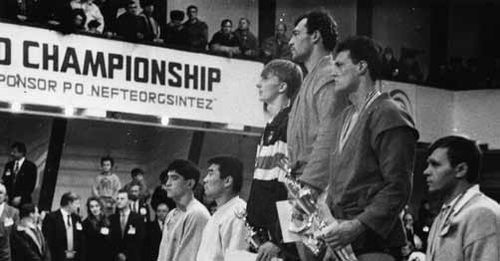 "If you have a dream, a desire and a perseverance, you will germinate even through the asphalt!" Author Unknown
Meeting point can not be changed
Now Academy is a school, a hotel and a museum, several sports halls for competitions and educational building. The entire complex covers an area of about three hectares. There are training members of different sports: sambo, gymnastics, table tennis, all kinds of martial arts. It also hosts national teams in these sports for sports stages.
If you type in the internet request "Sambo academy of Kstovo", then most likely, the search engine will show media publications on the subject of fraud and the capture of the sports complex. This is the hardest story page for sambo in Kstovo. Fighting with people trying to take away from Sambo home. Several years ago, the conflict flared associated with a number of people attempting to take illegally possession of real estate belonging to the Academy.
Exactly one year after the death of Mikhail Burdikov — 10 February 2014 — they failed to reach a decision of the court, and to preserve the Academy for the city and for all sambo athletes in Russia.
Sergey Lopovok, six-times world champion is certain that: "Nowadays, there is no such a sport facility in the country and even the world, where you could enjoy a full year-round training for the sambo championship and the world sambo. I think that in a hundred years time nothing will be changed sambo schoo; of Kstovo will remain the best. "
Rais Rahmatullin, seven-times world champion: " I am from Nizhny Novgorod, it is next to Kstovo, I was raised in this school. Naturally, my first steps in sport have been associated with this area. — I won here the first competitions, the competitions among youth and juniors. Everything is connected to sambo school of Kstovo. "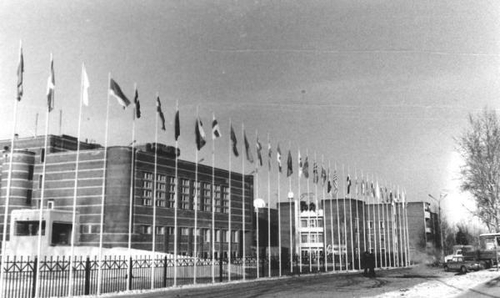 "Every home, and every human being has got its own soul and its face." Alexandre Dumas
Example for young
Unveiling of the monument dedicated to Mikhail Burdikov is a symbolic event. A lot of people came here, in spite of the summer season, when everyone leaves the city ... I liked the touching, warm attitude of his colleagues and friends to these solemn events and also their attention.
The anniversary coincided with the sambo championship of Russia among veterans. This school was built for the sambo development. Sambo is primarily a competitive process. So we invited here masters, people who associate themselves with Kstovo sambo school, whose who studied, performed, shared their experiences here. They also come here to compete, and at the same time attend to this landmark event.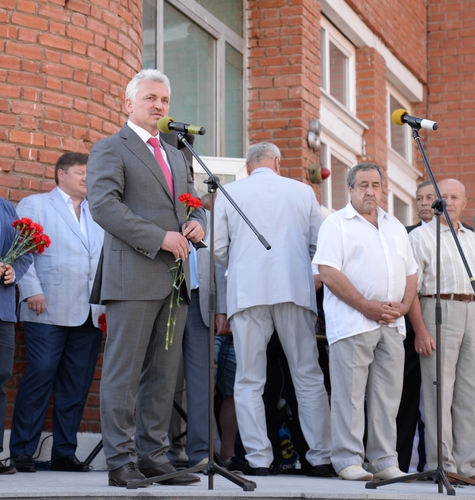 The celebration was in Sports Hall where the finals of the sambo championship of Russia were held and also the honoring of the representatives from Kstovo sambo federation. Dedicated people to sambo were awarded medals and certificates of appreciation.
Also the head coach of the Russian national sambo team Yuriy Borisochkin celebrated his anniversary this year. Mentor of the women's team turned to 70. That was a very beautiful and solemn ceremony. We congratulated Yuriy Borisochkin by giving him the silver medal "For merits and for his great contribution to the sambo development", the highest award of the All-Russian sambo federation.
It is necessary to thank the leadership of the academy. Today the flag passed to the new leader, the first director of the school Vladimir Kuznetsov. We asked him to head the World academy after Burdikov, and he agreed. Now this person is actively involved in the development of sport, restoring the image and traditions of the school, and it all turns out. I hope that each year will get better, better and better, and the academy will grow, and rise to the highest degree. I think the previous success and glory must return.
We should like to thank Nikolai Medvedev, the man who stood in the line with Burdikov until the last day, he was his support, and now helps the new director.
And of course, I want to thank the entire staff of the academy, which despite all the difficult periods remained true to his work and managed to keep good attitude towards school. This is not only my gratitude; it's also gratitude from all sambo athletes of Russian.
Unfortunately, today many regions don't respect their historical roots as it should be. But such a rich history, as we have got, gives you the opportunity to promote the sport. Sambo is based on the examples of people who have done the work. There is a need to remember those who accomplished a lot for sambo and are still alive. We should pay attention to prominent people who have created our sport. Veterans have also difficulties and we should talk about this with young sambo athletes, just came to sambo.
After all, their style of life is our story.
The best thing that gives us the story is enthusiasm. Goethe
President of the All- Russian sambo federation Sergey Eliseev