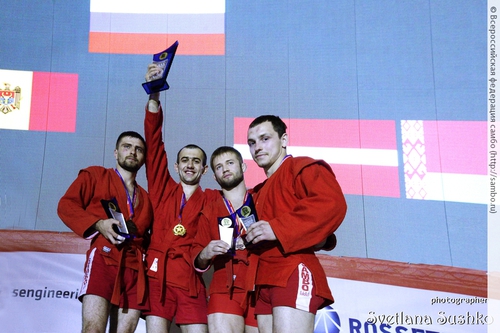 "Two bronze medals at the European Championship in Bucharest is a very good result for the Latvian sportsmen": said Vsevolod Zeleny, president of the Latvian sambo club association.
The winners of the competition are Victor Reshko (under 100 kg) and Andries Magers (under 62 kg).
"We planned minimum to win a medal ", said Vsevolod Zeleny. This challenge is the outcome of all our activity that has been done before the European Championship.
"We did it, and this means we have realistic goals and prove that we can reach them. Moreover, we won two medals. I think this is a very important and meaningful result for us. It is very important for sambo development in Latvia. It stimulates and encourages athletes and also raises their motivation. Now they realised that we could win medals at the international competitions".
He highlighted that the Latvian team was represented by six athletes in Bucharest 2014: five men and one woman.
"So, we expect the highest results from juniors, youth and cadets, but not from the active adults" continued Zeleny. "This is a priority for sambo development in the country. Of course, we have planned participation in the World Sambo Championship in Japan. We focus on the training of young sportsmen. Soon this group of athletes will make progress due to sports policy of the federation".
"The most precious for us is the next generation, we care about our future and do our best for the development. We invest in cadets, juniors and youths. The head of the federation concluded: "In five-year time we expect adults to win medals".