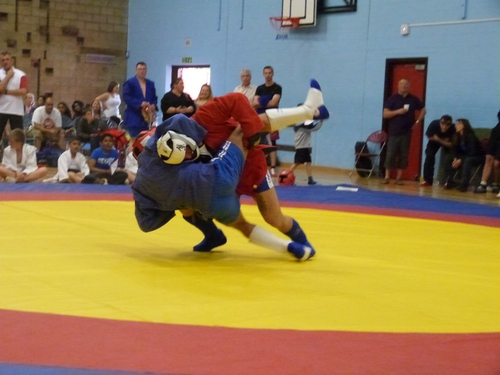 On June 30 British Sombo and Combat Sambo Championships and Trials held in Biddenham International School in Bedford (Great Britain). Through the hard work of the British Open Organisers Russell Dodds the event was an undoubted success with over 250 people attending the event, one of the best for many years.

There were several foreign athletes at the event all were living in this country, there were players from Bulgaria, Lithuania, Latvia and Ghana but we were very pleased to see a team from the American Sambo Association in attendance some of these lads are regular visitors to BSF event and the are most welcome.

The men's Sombo/Sambo was the event that everyone was looking forward to. The 74kg, 82kg, 90kg, 100kg, +100kg were all very competitive. Georgie Georgiev is a Bulgarian who has lived in the UK for many years and has become a regular on the BSF scene he is a real class act in both Judo and Sombo. He won the 100kg class for the second year running. If he and Vinnie Dragon who won the 74kg could get British Passports they would be eligible for selection to the British Team.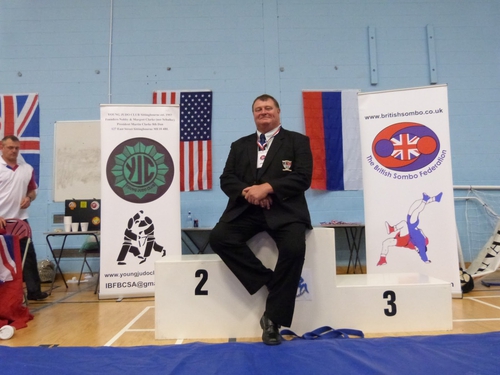 BSF Chairman Martin Clarke recently met with the FIAS Russian President Mr Vasily Shestakov in London the meeting was a great success and a press release will be available next week.

The BSF selection Committee have selected the following to represent Great Britain in the 2013 World Championships to be held in St Petersburg Russia in November.

Sambo Men
Bradley Belsey u57kg
Casey Belsey u62kg
Jamie Marzetti u82kg
Danny Carrott u90kg
Barry Gibson u100kg
Michael Hutchinson +100kg

Sambo Ladies
Kerrie Penfold

Combat Sambo
Jamie Wilkinson u90kg

The next tournament will be Scottish Open in July followed by Kent Open in September Folkestone, English Open Bedford November and lets not forget the Summer Camp in Sittingbourne during August. Go to www.britishsombo.co.uk for more information.


23th British Sombo & Combat Sambo Championships and Trials
June 30th 2013, Biddenham International School Bedford (GBR)

Sport Sambo
Ladies (open weight category)
1. Jovita STRELCIUNAITE (LTU)
2. Gintaryte MACYTE (LTU)
3. Kerrie PENFOLD (ENG)

Men
U57kg
1. Bradley BELSEY (ENG)

U62kg
1. Casey BELSEY (ENG)
2. Richard CENWEDGE (USA)

U68kg
1. Alex AMOAK (GHA)
2. Richard CENWEDGE (USA)

U74kg
1. Vinny DRAGON (ENG)
2. Dean PARCALL (ENG)
3. Ian DOBSON (ENG)

U82kg
1. Jamie MARZETTI (ENG)
2. Jalali DAMIROV (AZE)
3. Mick BUTLER (ENG)

U90kg
1. Danny CARROTT (ENG)
2. Danny ROBERTS (ENG)
3. Neil POWELL (ENG)

U100kg
1. Georgie GEORGIEV (BUL)
2. Barry GIBSON (ENG)
3. Anthony SANSONETTI (USA)

+100kg
1. Michael HUTCHINSON (ENG)
2. Tom JACKSON (ENG)
3. Ryan SYLVESTER (ENG)

Masters
U80kg
1. Mick ADAMSON (SCO)
2. Keith BROWN (ENG)

U90kg
1. Mike RUDKIN (ENG)
2. Keith HADMAN (ENG)
3. David FRAZER (ENG)

U100kg
1. Anthony SANSONETTI (USA)
2. Andrew HARPER (ENG)

+100kg
1. Alexius PHOENIX (USA)

Combat Sambo
U90kg
1. Jamie WILKINSON (ENG)
2. Matthew PICKERING (ENG)
3. Adam LITTLE (SCO)

+90kg
1. Michael HUTCHINSON (ENG)
2. Aaron PETERSON (ENG)