Jamie Marzetti from the British national Sombo team travelled to Bournemouth (GBR) for the World Junior Kurash championships. Kurash is a wrestling art from Uzbekistan with no ground work or any grabs below the belt.

The comp had more than 13 countries involved including South Africa, Mongolia, France, Greece and Botswana.

Jamie's group included the top Mongolian and the top Uzbek, not the group he wanted. However to be the best you need to beat the best, so Jamie fought well and got through to fight for bronze. Again the number one Mongolian whom no English man has ever beaten before until now. From the start Jamie took the fight straight to him scoring with a great drop shower throw and then another. He managed to keep the Mongolian at bay until the end of the 5 minute fight. This win earned him the accolade of being 3rd in the world a great achievement.

Coach John Clarke said "I am so proud of Jamie, he trains really hard week in and week out. Now becoming the third best in the world is well deserved and this is another great success for the club to have another world medalist".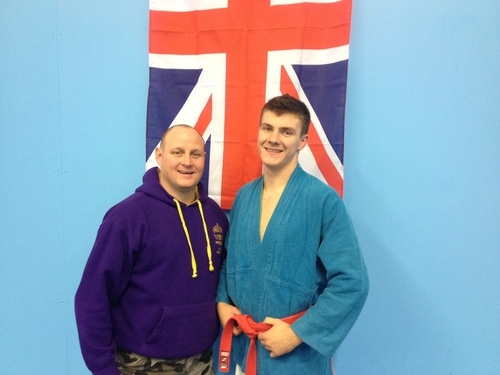 On photo: John CLARKE and Jamie MARZETTI

Source: (www.britishsombo.co.uk)