Roster of Russian national team on the Cup of the President of Russian Federation — traditional competitions for the 8 world best sambo teams: Igor Beglerov (weight category up to 52 kg), Sayan Khertek (up to 57 kg), Ilya Khlybov (up to 62 kg), Denis Davydov (up to 68 kg), Uali Kurzhev (up to 74 kg), Aleksey Kharitonov and Sergey Kiryukhin (up to 82 kg), Eduard Kurginyan and Alsim Chernoskulov (up to 90 kg), Artem Osipenko (up to 100 kg), Vitaly Minakov and Evgeniy Isaev (over 100 kg).

List of national teams participating in the tournament: Belarus, Bulgaria, Kazakhstan, Moldova, Russia, South Korea, Ukraine, Venezuela.

Cup of the President of Russian Federation will held in USH "Druzhba" of Moscow Olympic Sports complex "Luzhniki" on September 8th, 2012.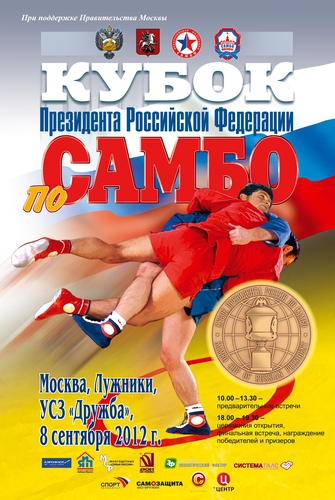 Source: (www.sambo.ru)