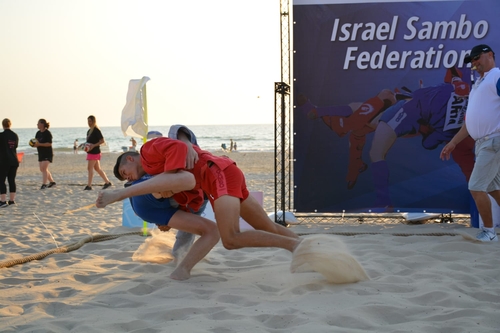 At the end of last week, the first national beach sambo championship was held in Israel. The event was attended by 84 athletes, representing the nine major sambo societies in Israel.
The event was held at the new landscaped beach of Bat Yam and was part of the Olympic Festival organized by the Municipality of Bat Yam on the occasion of the end of the Olympic Games in Tokyo. The municipality of Bat Yam treats sambo with trepidation and love, and it is not unknown, as the city has one of the largest and strongest clubs in the country — Hapoel Bat Yam — which has gathered more than 150 young athletes around the sport.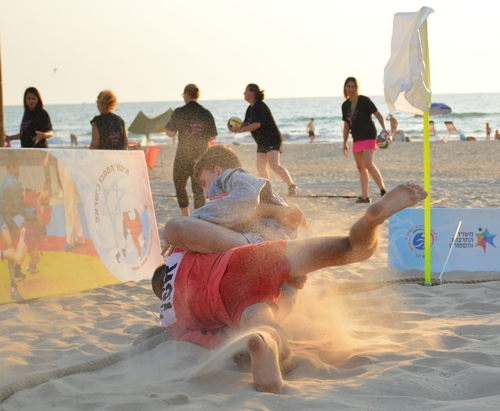 Yaron Levy, the specialist in charge of sports at the city hall, said: "We understand how important this sport is in our city. With its help youth, mostly disadvantaged youth from street can gather in gyms. It's hard to get them interested in anything, and I'm sure they will love this sport. In our turn we are sure that sambo will bring up healthy and patriotically-minded youngsters!"
Hapoel Bat Yam Club Director and also IFS General Secretary Shai Geisinger commented on the championship: "We did not expect such an interest from athletes and clubs and the number of participants in the first-ever national championship in this sport. Sambo greatly impressed the organisers. Athletes really enjoyed the dynamic and interesting course of the bouts. We are confident that the next Championships will bring twice as many participants!"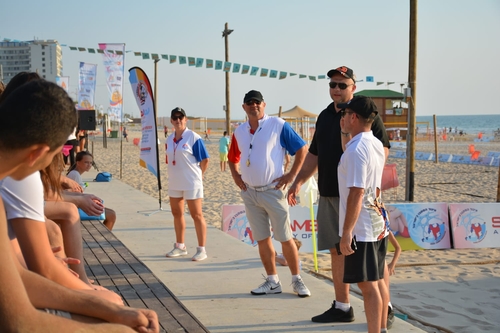 At the end of the event Anatoly Gerstman, head referee of the federation, said "It was a fantastic show, interesting battles, great technique of the players, it was very interesting to judge, and the whole championship passed in the same breath."
The fact that this event is of interest not only to sambists themselves was demonstrated by the stands full of spectators, who took an active part in this holiday of sports.
At this championship the leader in gold, silver and bronze medals by a wide margin won the Otzma Athlet Rishon Le Zion Club under the leadership of Pavel Musin. The other clubs in the same order were Hapoel Bat Yam, Hapoel Ramle and Otzma Ashdod.