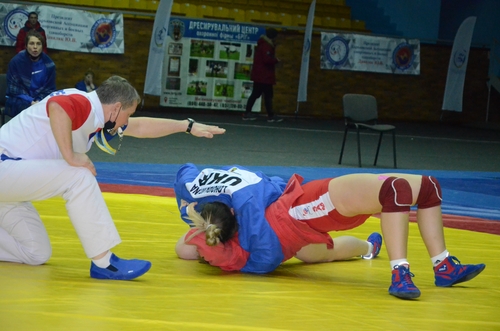 The Youth Sambo Championship of Ukraine became the first national start of the current season, the fights of which were held from February 5 to 7 in Kharkov.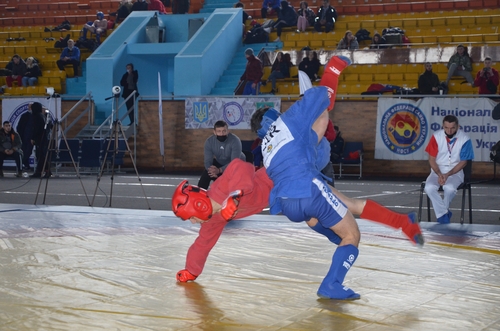 Vadim Rogach, President of the National Sambo Federation of Ukraine:
— It was the first national championship of this scale in Ukraine among all sports. Sambo wrestlers have once again shown how, in conditions of quarantine restrictions, it is possible to hold competitions, while observing all the requirements of medical organizations. As for the sports part, let me remind you that new weight categories have already been operating since the beginning of 2021 — there are fewer of them, and this, of course, increased competition. Moreover, the competition is the main stage of selection for the national team in this age category: in sports sambo — for the European Championship, in the combat section — for the world championship. We welcome the decision of FIAS to include combat sambo in the program of the youth planetary forum. In Ukraine, for a long time, young men and juniors have been competing for awards at the national level, now they will enter the international arena. In Kharkiv, the coach of the youth team was presented — Alexander Voropaev, a multiple world and European medalist, just a couple of months ago in Serbia he climbed the "bronze" step of the World Championship, and now he will pass on his sports experience as a mentor.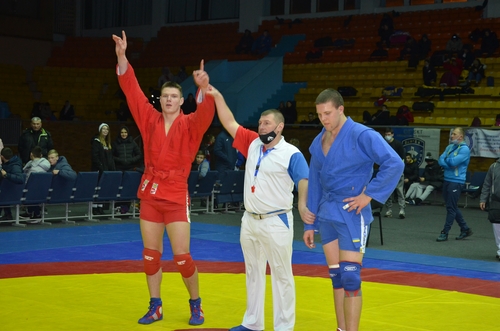 TEAM SCORING
YOUTHS
1. Kharkiv region
2. Odessa region
3. Kiev
JUNIORS
1. Kharkiv region
2. Kiev
3. Odessa region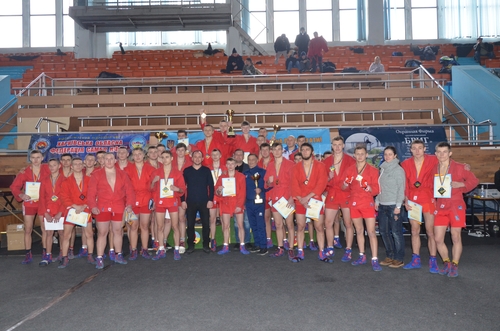 YOUTHS (F) (sports sambo)
42 kg
1. Anastasia YURCHAK (Odessa region)
2. Diana MOROZOVA (Donetsk region)
3. Karina IVASHCHENKO (Kiev)
3. Oksana MROCHKO (Vinnytsia region)
47 kg
1. Anastasia SIKISH (Ivano-Frankivsk region)
2. Yulia ZASULSKAYA (Sumy region)
3. Christina DUS (Chernihiv region)
3. Elizaveta SHEVCHENKO (Chernihiv region)
50 Kg
1. Yana VOLOSHINYUK (Ivano-Frankivsk region)
2. Daria CHUGAINOVA (Zhytomyr region)
3. Anastasia KOLODYUK (Kiev)
3. Daria-Irina SHVEDYK (Chernihiv region)
54 kg
1. Ekaterina MARTINENKO (Kiev)
2. Anastasia SHILO (Odessa region)
3. Eva SANDAR (Transcarpathian region)
3. Valeria MARCHENKO (Kharkiv region)
59 kg
1. Sofia BORDINSKIKH (Dnipropetrovsk region)
2. Amina ABDULAGATOVA (Dnipropetrovsk region)
3. Diana TULUNZHI (Odessa region)
3. Maria POLYAKOVA (Kiev)
65 kg
1. Angelina KALENICHENKO (Kharkiv region)
2. Sofia SHILOVA (Mykolaiv region)
3. Maria CHERNOKOZ (Zhytomyr region)
3. Victoria GRITSENKO (Sumy region)
72 kg
1. Yana SHIMKO (Kiev)
2. Angelina LYSENKO (Chernihiv region)
3. Irina IVASHCHUK (Luhansk region)
3. Victoria ZAROVETSKAYA (Ivano-Frankivsk region)
80 Kg
1. Anna KAZAKOVA (Chernihiv region)
2. Alexandra PROTASEVICH (Zhytomyr region)
3. Sofia RUDKOVSKAYA (Donetsk region)
3. Maria SOKOTNYUK (Dnipropetrovsk region)
+80 kg
1. Margarita BELKOVA (Dnipropetrovsk region)
2. Ivanna YUZEFOVICH (Kiev)
3. Anna MUKAN (Odessa region)
3.Anna DEEVA (Dnipropetrovsk region)
YOUTHS (M) (sports sambo)
48 kg
1.Maxim GRIGORASH (Ivano-Frankivsk region)
2. Vadim VESELYANSKY (Kharkiv region)
3. Alexander RYABYKH (Nikolaev region)
3. Vladislav LEVITSKY (Mykolaiv region)
53 kg
1. Maxim BABICH (Kharkiv region)
2. Daniil GRUSHEV (Kharkiv region)
3. Dmitry POLIKHANENKO (Donetsk region)
3.Artem GORBAN (Kiev)
58 kg
1. Nazar VISKOV (Kharkiv region)
2. Georgy IVCHENKO (Kharkiv region)
3. Artem ZHURA (Kharkiv region)
3. Stanislav RAK (Poltava region)
64 kg
1. Maxim POMIRKOVANY (Kharkiv region)
2. Danilo NAUMENKO (Sumy region)
3. Yan RASKIN (Odessa region)
3. Victor BUTOV (Kharkiv region)
71 kg
1. Kirill SOLOKHA (Kharkiv region)
2. Maxim PARFIONOV (Odessa region)
3. Vasily SIDOR (Kharkiv region)
3. Dmitry ZHITARYUK (Khmelnytsky region)
79 kg
1. Denis BATYSHEV (Mykolaiv region)
2. Archil BIGVAVA (Zaporozhye region)
3. Ilya KLIMENKO (Dnipropetrovsk region)
3. Nikita ISHCHENKO (Dnipropetrovsk region)
88 kg
1. Alexey BOLDIREV (Kiev)
2. Timur SAMEDOV (Rivne region)
3. Maxim ROZGONOV (Donetsk region)
3.Dmitry SAVCHENKO (Khmelnytsky region)
98 kg
1. Roman KROKHMALYOV (Zaporozhye region)
2. Danila-Mikhail PONOMARCHUK (Zaporozhye region)
3. Alexander USATOV (Odessa region)
3. Dmitry ORLOVSKY (Poltava region)
+98 kg
1. Alexey GALAKA (Kiev)
2. Mykola HRYBYK (Lviv region)
3. Dmitry VERICHEV (Cherkasy region)
3. Yaroslav FILIPCHUK (Odessa region)
YOUTHS (combat sambo)
48 kg
1.Maxim CHAYKUN (Vinnytsia region)
2. Ivan KUZMIN (Vinnytsia region)
53 kg
1. Danila FILATOV (Kharkiv region)
2. Anton PALAMARCHUK (Vinnytsia region)
3. Maxim BEZSONOV (Kharkiv region)
3. Bohdan SMOLYAK (Vinnytsia region)
58 kg
1. Vladislav KHOMENKO (Odessa region)
2. Nikolay DMITRYUK (Kharkiv region)
3. Denis TKACHENKO (Kharkiv region)
3. Roman KOSYAK (Kiev)
64 kg
1. Vladislav SAVCHENKO (Kherson region)
2. Stanislav PUSHKARSKY (Ivano-Frankivsk region)
3. Ivan KUTSEL (Rivne region)
3. Yan RASKIN (Odessa region)
71 kg
1. Vasily SIDOR (Kharkiv region)
2. Nikolay SIDOR (Kharkiv region)
3. Vladislav SHPAK (Kharkiv region)
3. Ramin GASIMOV (Kherson region)
79 kg
1. Gordiy PETIN (Kharkiv region)
2. Artur SMUK (Lviv region)
3.Andrey PLAVKO (Kiev)
3. Maxim PAVLYUK (Odessa region)
88 kg
1. Yuri MIKHAILOV (Rivne region)
2. Denis GEYMAL (Kiev)
3. Kirill BIZYUK (Kiev)
3. Shamil RUSTAMOV (Odessa region)
98 kg
1. Denis MARSULENKO (Odessa region)
2. German KUZNETSOV (Kharkiv region)
+98 kg
1. Yaroslav STRILETS (Cherkasy region)
2. Yaroslav FILIPCHUK (Odessa region)
3. Alexander SUMOVSKY (Dnipropetrovsk region)
3. Denis BILY (Dnipropetrovsk region)
JUNIORS (F) (sports sambo)
47 kg
1. Maryana GAVRILYUK (Zaporozhye region)
2. Margarita VYPIRAYLO (Cherkasy region)
3. Anastasia YURCHAK (Odessa region)
3. Anastasia KOZYR (Lugansk region)
50 Kg
1. Miroslava SAVCHENKO (Luhansk region)
2. Marta CHAPLINSKAYA (Lviv region)
3. Ekaterina GRIGORENKO (Vinnytsia region)
54 kg
1. Snezhana PLISH (Ivano-Frankivsk region)
2. Anastasia SHILO (Odessa region)
3. Daria VILIYCHUK (Zhytomyr region)
3. Anastasia YANKO (Donetsk region)
59 kg
1. Maria KUNEVICH (Ivano-Frankivsk region)
2. Olga DRIG (Kiev region)
3. Sofia BORDINSKIKH (Dnipropetrovsk region)
3. Elena KRAVCHENKO (Zhytomyr region)
65 kg
1. Valeria BIRYUCHENKO (Zhytomyr region)
2.Maria RYBACHUK (Odessa region)
3. Olga STUKALENKO (Odessa region)
3. Margarita PTUSHKA (Luhansk region)
72 kg
1. Natalia CHISTYAKOVA (Chernihiv region)
2. Vladislava TOROPTSEVA (Cherkasy region)
3. Anastasia ZINKEVICH (Zaporozhye region)
3. Valeria CHERNENKO (Kiev)
80 Kg
1. Irina LOGOYDA (Odessa region)
2. Valeria ZAKHAREVICH (Dnipropetrovsk region)
+80 kg
1. Ekaterina CHOVGUN (Dnipropetrovsk region)
2. Anastasia BEZOTOSNA (Kharkiv region)
3. Elizaveta MORENKO (Donetsk region)
JUNIORS (M) (sports sambo)
53 kg
1.Maxim KAZNACHEEV (Kharkiv region)
2. Dmitry SEMENCHENKO (Zhytomyr region)
3. Vladimir MARTYNYUK (Vinnytsia region)
3. Alexander KLAPSHA (Vinnytsia region)
58 kg
1. Yuriy YAREMCHUK (Ivano-Frankivsk region)
2. Danilo ISAENKO (Kharkiv region)
3. Dmitry ZHEBCHUK (Kiev)
3. Georgy KURKOED (Odessa region)
64 kg
1. Vladislav KIRILYUK (Kiev)
2. Evgeniy FEDENKO (Odessa region)
3. Roman SHIYKA (Lviv region)
3. Rodion IGNATISHIN (Zaporozhye region)
71 kg
1. Vladislav KHOLOD (Khmelnytsky region)
2. Vitaliy STETS ​​(Lviv region)
3. Danila DEMBOVSKY (Kiev)
3.Andrey ARSIONOV (Kharkiv region)
79 kg
1. Alexey LIPKO (Vinnytsia region)
2. Dmitry VITENKO (Kharkiv region)
3. Kirill PORONKO (Kharkiv region)
3. Nazar ZUBKOV (Kharkiv region)
88 kg
1.Mikhail SHAPOVALOV (Dnipropetrovsk region)
2. Nikita BATY (Zaporozhye region)
3. Daniz RASHIDOV (Kharkiv region)
3.Bogdan PUSHENKO (Kiev region)
98 кг
1. Евгений ПАНИЧ (Херсонская область)
2. Даниил КАРПОВ (Черниговская область)
3. Александр БУЧОК (Днепропетровская область)
3. Игорь БАСАНЕЦ (Сумская область)
+98 кг
1. Николай ГРЫБЫК (Львовская область)
2. Сергий КОВБАСЮК (Запорожская область)
3. Антон ПЛАХОТНИК (Киевская область)
3. Денис СМИРНОВ (Харьковская область)
98 kg
1. Evgeniy PANICH (Kherson region)
2. Daniil KARPOV (Chernihiv region)
3. Alexander BUCHOK (Dnipropetrovsk region)
3.Igor BASANETS (Sumy region)
+98 kg
1. Nikolay HRYBYK (Lviv region)
2. Sergiy KOVBASYUK (Zaporozhye region)
3. Anton PLAKHOTNIK (Kiev region)
3. Denis SMIRNOV (Kharkiv region)
JUNIORS (combat sambo)
53 kg
1. Vladimir MARTYNYUK (Vinnytsia region)
2. Vladimir CHORNY (Kiev)
3. David DOLGOV (Kharkiv region)
3. Alexander KLAPSHA (Vinnytsia region)
58 kg
1. Sergiy MAKHAILENKO (Donetsk region)
2. Danilo SUMSKOY (Kherson region)
3.Andrey MARMYL (Zhytomyr region)
3. Pavel ZVERKO (Vinnytsia region)
64 kg
1. Eduard LESHUK (Rivne region)
2. Ilya PARAMONOV (Lugansk region)
3. Vladislav PALYURA (Vinnytsia region)
3. Artur TKACHENKO (Vinnytsia region)
71 kg
1. Danila GOMELA (Kharkiv region)
2. Danila ZUBENKO (Donetsk region)
3. Nazar KOVAL (Kharkiv region)
3. Alexey SELDTSOV (Kherson region)
79 kg
1. Vasily IVANYAK (Odessa region)
2. Ivan IVANOGLU (Donetsk region)
3. Danilo SCHOOL (Kherson region)
3. Alexander KILAREV (Kharkiv region)
88 kg
1. Artem LAMANOV (Kiev)
2. Konstantin KAMINSKY (Kiev)
3. Sergiy LOZOVY (Kharkiv region)
3. Danielo RAHIM (Odessa region)
98 kg
1. Bohdan GNIDKO (Kiev)
2. Dmitry KABANETS (Kiev)
3. Oleg TRETYAKOV (Kherson region)
3. Daniil LOSEV (Kharkiv region)
+98 kg
1. Anton PLAKHOTNIK (Kiev region)
2. Timur AZIMOV (Kiev)
3. Alexander PETRENKO (Odessa region)