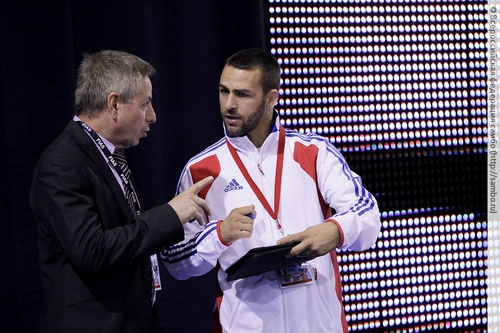 "European Sambo Championship in sports and combat sambo: one silver medalist and one bronze medalist — great success of the national French team": said Jean-Claude CERUTTI French Sambo Committee President of the French Wrestling Federation.
Charly SCHMITT (combat sambo, under 74 kg) won silver medal and Estelle FRIQUIN (under 52) kg won bronze medal at the European Championship in Bucharest (Romania).
Jean-Claude CERUTTI said: "I consider this achieved results — two medals, as some high quality performances from this team. On Sunday we hoped to win two more medals, but unfortunately we didn't manage to do that. However, this result at the European Sambo Championship is highly important for us and appreciated by the Ministry of Sports. Here, we had planned to win medals in sports and combat sambo and our plan worked. Nevertheless, at present sports sambo is more developed in France that combat sambo ".
He also highlighted that sambo traced its roots back 1971 in the country, but it hadn't been not a long time ago since establishment and development of the Sambo Committee.
"We have got the recognition of the Ministry of Sports. For the last three or four years we have seen a significant popularization of sambo. We also entered into a national High Sports Performance Program": continued the president.
"This year the World Sambo Championship will be organised far from Europe, in Japan, and we will send 5 or 6 athletes": he added.
— How many medals do you plan to win?
"Good question! We would like to get two or three medals. If we could win the gold that would be great": said President of the Sambo Committee.