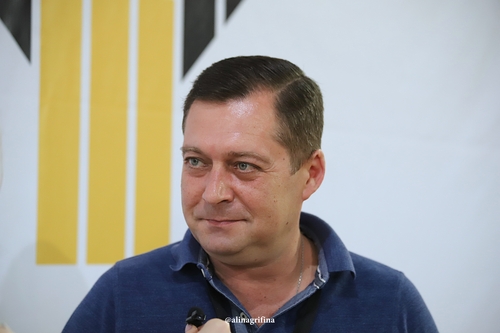 How is sambo developing in Ukraine? This question was answered by Vadim Rogach, President of the National Sambo Federation of Ukraine.
— Ukrainian sambo wrestlers were always strong. We always had high results in international competitions. However, 8 years ago, the development of sambo in our country was going through the difficult period. The level of the federation was much lower.And over the last eight years we have done a lot of work and made a real breakthrough. Currently sambo in Ukraine is the number one sport among 120 non-Olympic sports recognized in our country. We are leaders among non-Olympic sports.
— How did you manage to make such a significant breakthrough and become a leader?
— We know how to cooperate with state authorities, with the Ministry of Youth and Sports, first of all. And also with the Ministry of Education, the security and commercial structures. We also paid a lot of attention to the personnel issue. Good specialists work for the federation. We worked hard on it by changing the staff. The coaching staff we have in the national team is pretty strong in my opinion.
If you look at the figures, then today the Ukrainian Sambo Federation comprises 27 thousand people and 120 sports organisations represented in all 25 regions of the country. Representatives of all nationalities, all religious denominations and political trends are involved in our sport. They are all engaged in one common cause and unite for it. It was a global and difficult task to achieve such an atmosphere in the federation. And we really managed to do it!
— What is your main instrument in popularizing sambo in Ukraine?
— This is, above all, a high sports activity. We hold all the competitions that we have. We have a fairly extensive calendar. Just the Championships of Ukraine alone, we have eight in terms of events. Of course, nowadays the pandemic has affected everyone and we also had to spend a few months in enforced quarantine last year, we had to shift a lot of things to remote working, but that did not stop us from preparing the team.
Despite the difficult conditions of the pandemic, last year we conducted 12 camps with the athletes of all ages of the national team of Ukraine. And we even found some pluses in the new reality, because we had to live under quarantine in a closed space, and the athletes had no time to be distracted. As a result, our sambo wrestlers trained very effectively and with full dedication. Of course, these are temporary measures, and I hope that soon everything will be over, and we will resume our work and meetings as normal.
What is going on today shows once again a very serious fact — we all love our sport very much. Challenges only make you stronger, strengthen your character and discipline. In spite of everything, life goes on, tournaments are held, and the title-holders confirm their leadership through beautiful wrestling, and new names emerge. At the European Championships in Cyprus, for example, a lot of young new names emerged. Our junior team has had 30 per cent of its roster renewed, and as for the juniors, a third of the national team is made up of new recruits. And the European Championship showed that all of them are worthy members of our national team.
— What is your vision for the future?
— We all have one big dream, which is the Olympics. That's where we are heading, fulfilling all the requirements for the Olympic sport. We are now adapting: some of the technical equipment has changed, the rules of wrestling have changed. At the European Championships these changes were especially evident. The wrestling became more interesting. Athletes adapt easily and even the quality of the competitions has changed for the better. Of course there is always something to work on for the future. But we look at other sports, especially the Olympic ones, and try to integrate their successful experience into our sport. We should always learn from others in order to emphasise the best in ourselves.