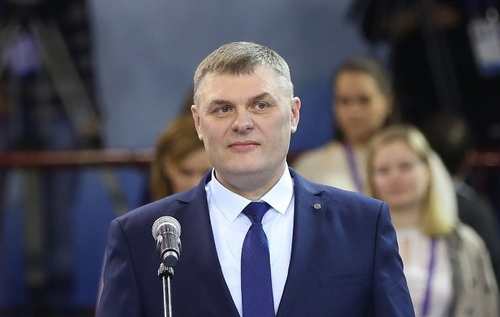 Alexander Kobrusev, Chairman of the Belarusian Sambo Federation, spoke about the development of sambo in the Republic of Belarus.
— There are no regions in Belarus today where sambo is not developing. There are regional branches in almost every region. Depending on the needs and opportunities, we are opening new branches and broadening the network in order to cover as many people as possible. In sambo, there is a clear relationship between the coach and the student; it is impossible to develop something if there is no coach. That's why we are working on the development of the sport on a spot basis and carefully select coaches.
— Are there any programmes aimed at attracting children and young people?
— We have an active club system all over the country. This year, we held a report conference, which was attended by representatives of these clubs, and I think that in the near future we will sign with them a joint centralized programme to develop sambo. Club sports is a commercial activity, but in order to implement sambo development programmes, the clubs shall also carry out some social work. When combining commercial and social work, there will be a good result. The Federation plans to provide a high level of assistance in the promotion and development of such clubs.
— Will recognition of sambo as an Olympic sport increase its popularity in the country?
— We all understand very well, as in any country, that a medal won at the Olympics is much more valuable than a medal won at the World Championships. Naturally, when a sport gets Olympic status, the state support becomes different and the interest of the youth is much higher because everybody understands that becoming an Olympic champion is like being a cosmonaut.
— If a person approaches you who wants to take up sports, what advantages would you name for him if he approached sambo?
— Sambo is a completely different psychology and upbringing of people. The essence is in the very name sambo — it is self-defense. That is the task of this sport is to teach to defend yourself and somebody else, who is weaker next to you. It is already more than a sport. Sambo in general is a very close-knit team, a family.
— How are the athletes adapting to new rules on their way to Olympic recognition?
— There's no problem with the rule changes, everything went absolutely smoothly. I didn't hear any athlete complaining that it was hard. Everyone understands what it's all about. And the guys who are competing today, they all want to get to the Olympics. They are ready for a couple more changes, just to make sambo an Olympic sport. I am sure that in the near future we will really join the Olympic family. This is a very serious and difficult task, the goal we all have to strive for. This will be a real leap in the development of our sport.

*photo: octagon.by